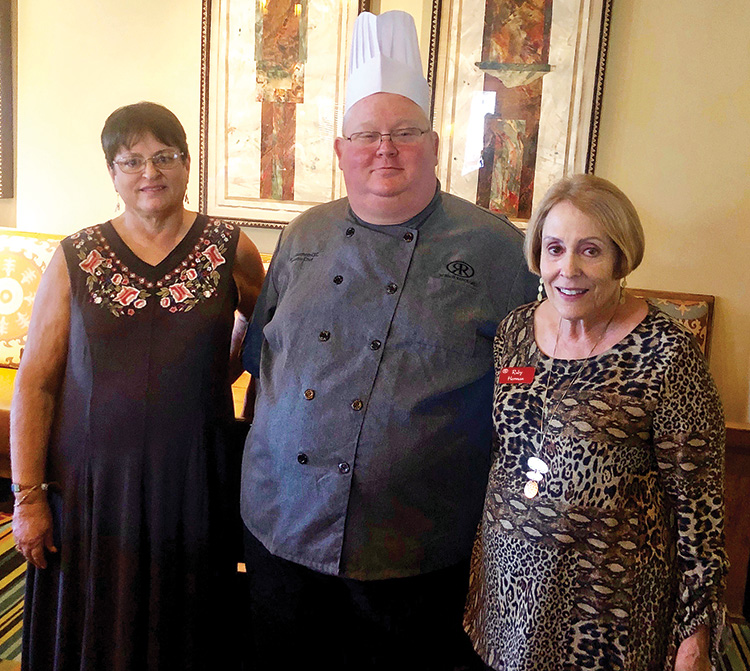 Ruby Herman and Alicia Mooney
Chef Jay Ganzhorn of Robson Ranch, Arizona, presented at the Ladies' Social Club November Luncheon. Cooking is his passion and he loves it very much. Chef Jay began working at Robson Ranch in July of this year. The chef earned his Associate of Arts degree in Applied Science of Culinary Arts from Pima Community College. He then trained with Hacienda del Sol in Tucson in 2001. He also interned with the American Culinary Federation. He is now one of thirteen certified chefs in Southern Arizona.
The new menu at the Grill is a corporate menu; that means all of the Robson Communities use this menu. The Chef's Corner listed on the menu is the nicer cuisine designed by each individual chef. His goal is to change the menu seasonally and he wants to incorporate more vegetables into the meals. A new dessert menu is in the works.
The Robson Ranch Ladies Social Club's mission is to provide opportunities for the social interaction among all its members who are residents of Robson Ranch Arizona, to provide philanthropic donations to our community, and to educate ourselves about our local area/region. We are always happy to welcome new members to the club. We meet on the second Monday of the month at 11 a.m. in the restaurant. Reservations are required. Please RSVP to Denise Stuart at [email protected].
Happy Trails.