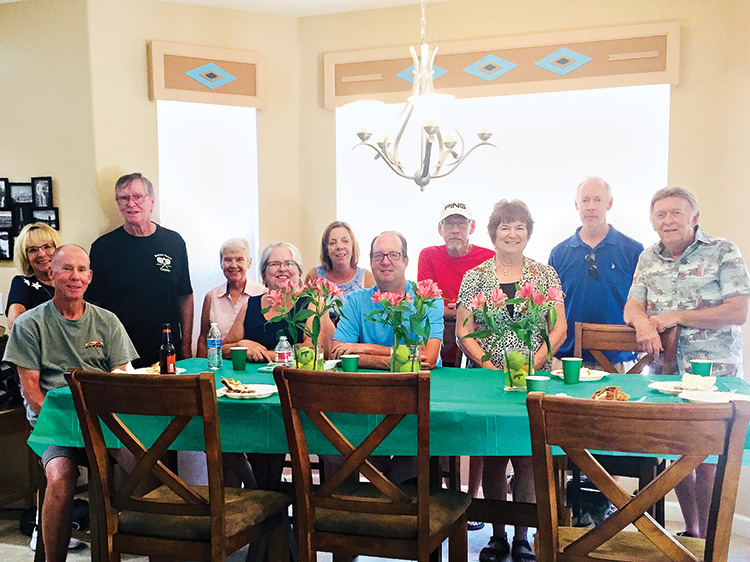 If it's July, it must be time for Wimbledon! As we gear up for this famous tennis grand slam, let's see who can answer this question: Who is the youngest woman to win at Wimbledon?
That's a tricky one because the youngest woman was Lottie Dod from England, who won the championship in 1887 at the age of 15. However, the youngest overall player was Martina Hingis from Czechoslovakia/Slovakia, who won the women's doubles title. She was also 15, but a mere three days younger than Lottie. Did you guess right?
Our monthly Friday Night Social was held on June 21, with tennis play from 5:00 to 6:30 p.m. and dinner and drinks immediately following in the Fireside Room. Although some players were traveling for the summer or returning to their summer homes, we had three courts of mens, womens and mixed doubles. Not bad for a hot summer night!
The Tennis Club at Robson Ranch is also busy planning for the 2019-20 season, as well as hosting various activities for the summer. July 1 was also the beginning of the fiscal year, which brought on board our newly elected executive board members. Beginning their two-year terms of office are Dave Cannella, president, and Bob Plunpom, member-at-large. They join Jan Kinley, secretary, and Bill Christofferson, treasurer, for the remainder of their terms.
Interested in finding out about the club? Check out the bulletin board located outside the Sports Club where you'll find contact information for the executive board, who will gladly get you connected! Hope to see you on the courts soon!