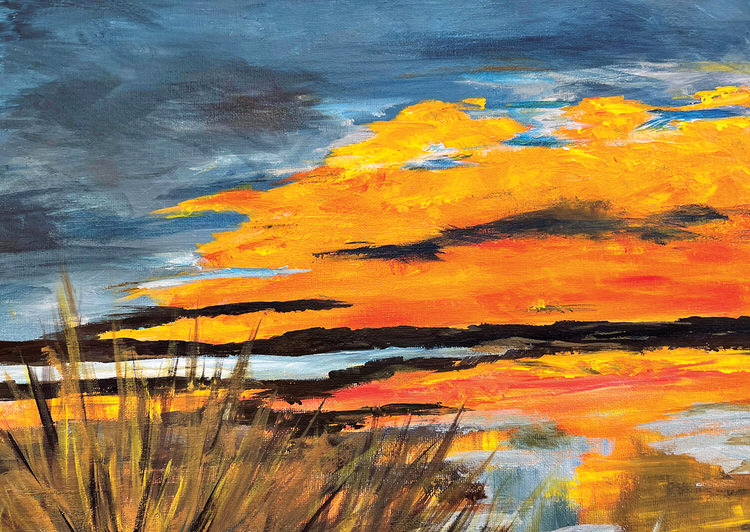 Susan Halley
The Fine Art Guild just completed their final summer Beginner's Acrylic Class. The instructor, Nils Johnson, did a wonderful job showing five enthusiastic painters how easy it is to finish a sunset landscape in just three hours.
We started out learning about the different types of brushes and how they can be used to paint very dark dense to very light thin patterns. Putting different amounts of paint on the brush is also used to create different effects.
Nils also explained the different qualities of paint and how some are opaque to translucent. Mixing colors is so interesting. Did you know that mixing yellow with black makes a wonderful dark green? After practicing and mixing up colors, we went right to our canvases and used a paper towel to paint our dark blue skies. It was messy but very creative. Mixing yellow with red and white gave us the most vibrant orange. The instructor and the class participants all painted amazing sunsets over the evening water.
The Fine Art Guild board is ramping up their fall and winter schedules. We are promoting our weekly workshops in three different types of media, plus working on many new classes for the return of the snowbirds. Please stop by our studio in the Creative Arts Center. We welcome all levels of experience and would love to hear about what interests you.