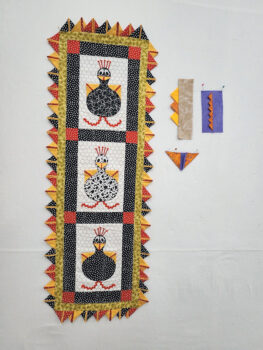 Barbara Renthal
Can you believe it is August already? Time to put away the little flags and patriotic table runners. The red, white, and blue quilts we bring out to mark the mid-summer holidays are being folded and stored for next summer. Out come the sunflowers and more muted colors of the approaching shorter days and cooler nights. There is still plenty of summer left here in the desert, but the feel of the days has changed, and our quilts and other handmade crafts reflect the coming fall.
The Material Girls have been traveling the world, enjoying cooler climes and vacationing with family. Some of us have stayed put at Robson Ranch and enjoyed the slower pace summer brings. We have continued to get together for sewing and fun, most recently with Quilt Till You Wilt (QTYW) gatherings, which involve a late afternoon potluck, a little sewing "pearl" passed on by a willing member, lots of chatting, and by golly, we actually get some sewing done! This has been a fun way to stay in touch, see what projects are being created by our talented members, and to learn a few new tips.
Our June QTYW featured Susie Klopp's "Not Your Mother's Prairie Points," a demonstration of folded fabric techniques. Susie's work is impeccable and fun! July featured Cherie Bates with "Quilt Design Math (Don't Be Afraid)!" Believe it or not, some of that algebra can come in handy!
We are happy to have welcomed four new members over the summer, and continue to reach out to community and friends with quilts of love. Please stop over at the Creative Arts Center and say hello!