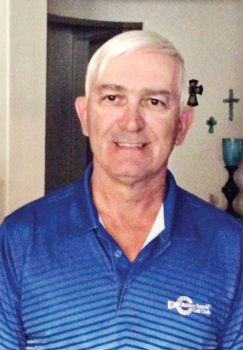 Mary Pryor
After a brief hiatus during the heat of the Arizona summer, the Robson Ranch Mixed Putting League (RRMXPL) kicked off its fall season on October 26, 2017. Sixty-one competitors, including many new faces.ied for the prizes and bragging rights. Prizes were awarded for putters with the lowest gross scores and with the lowest net scores. DuWayne Lamere won the low gross award with an incredible score of 33, or three under par. Other winners in the low gross event were Jim Baxter, second place; Larry Sundin, third place; and Wayne Champagne, fourth place. Patty Bruchez won the low net award with a net score of 33. Other winners in the low net event were Mike Hart, second place; Jim Moore, third place; and MaryLou Walton, fourth place. Newcomers Regina Bellach and Pat Sand also won in the blind draws.
Susan Phillips and Tom Walton both made one-putts on the "Money Hole." Our Pro, Jay Wilson, had .ery good score of 34, so only one person "Beat the Pro, DuWayne Lamere. DuWayne's great score was 33. Jeanine McKinna won a Robson Gift Certificate. Thanks to Jay for joining in the fun, and congratulations to all of the winners!
The RRMXPL meets every other Thursday and is open to putters of all skill levels. Our next putting event will be on Thursday, December 7, 2017, at 3:30 p.m. at the Robson Ranch Putting Green. Subsequent events will be held on December 21, 2017; January 4, 2018; January 18, 2018; February 1, 2018; and every other Thursday thereafter. Email Nick Pike, RRMXPL president, at [email protected] to sign up for an event and/or to be added to the email distribution list. Sign-up sheets are also located in the Pro Shop prior to each event.
Save the date: RRMXPL annual Awards Gala will be February 1, 2018. It's time to celebrate! The RRMXPL is turning a year old! Please plan to join us on Thursday, February 1, 2018, for the RRMXPL's first annual Awards Gala. Dinner and an awards ceremony will be held after that Thursday's regular putting event. Awards will be given for Putter of the Year – Gross Score; Putter of the Year – Net Score; Most Improved Putter; Most Holes in One; and Best Score of the Year. Other prizes and festivities will also be had. More details to follow, but be sure to save the date!
For additional information please contact any of the RRMXPL committee members: Nick Pike, president; Mary Pryor and Mike Pryor, treasurers; Stan Lukasik, tournament set-up; Craig Spittel, statistician; and Gloria LaMere and Mona Rod, social and publicity chairs.