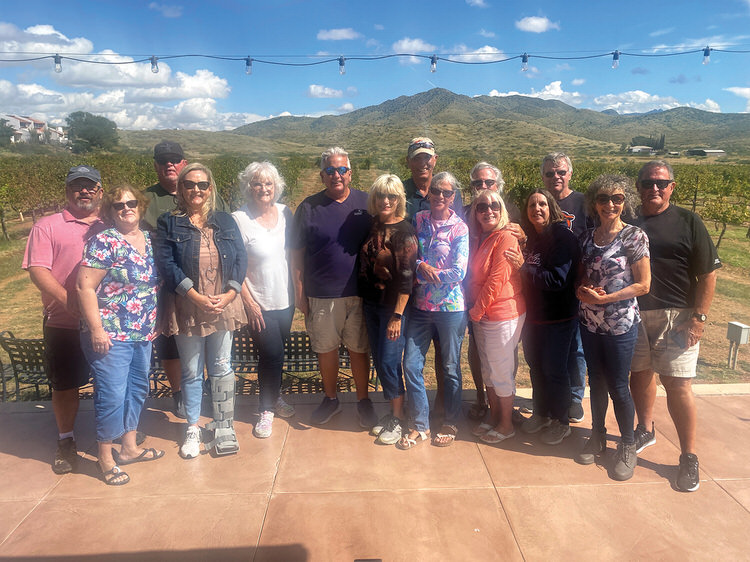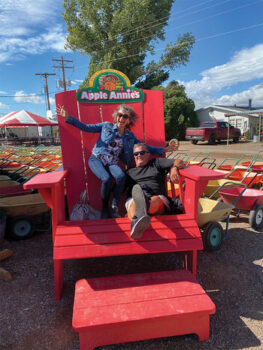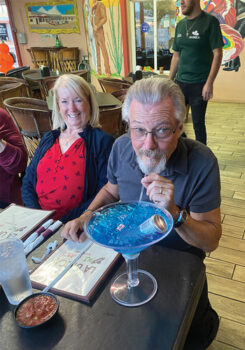 Pat Sand
The Roving Ranchers' latest trip was to Willcox for some fall harvest wine tasting on Oct. 6. The group met for lunch at Stronghold Cafe in Cochise. An array of cold cuts, cheeses, salads, and fresh fruit was set up for the Ranchers upon arrival. There was plenty of food, and many took leftover containers for their coolers.
After lunch, the Ranchers drove to Four Tails Vineyard in Pearce. The farm road to the winery was quite muddy and rutted due to recent rains. One car got stuck and after spinning their wheels without any luck extricating themselves, the Winery came to the rescue and towed them out of the muck. They definitely needed some wine after that harrowing experience! The Ranchers then drove to the second wine tasting at 1764 Vineyards, which was 5 minutes away. Shortly after arriving, big black clouds rolled in, threatening a downpour. Luckily, we finished the tasting and left before any rain fell. The Ranchers checked into the Arizona Sunset Inn and Masey, the chocolate lab, greeted all the guests.
The Mexican food dinner at La Unica Restaurant and Tortilleria that evening was tasty and accompanied by margaritas. A couple brave souls sampled the giant margaritas. The group then convened around the hotel's fire pit and rehashed the day's adventures.
Day two was to Apple Annie's Pumpkin Farm, which featured a variety of everything pumpkin, as well as jars of pickles, olives, spices, and more. Unfortunately the corn maze was too muddy to try. At Apple Annie's Country Store, people opted for more shopping and lunch. Several got the Apple Pie Crumble a-la-mode for dessert, which was yummy!
That afternoon, the group visited two more wineries. Coronado Vineyards had a beautiful venue with a large tasting room and gift shop. Several people chose to eat at the winery as they sampled wines. The hummus appetizer and barbecue sliders were big hits! Then it was on to Zarpara Vineyards. Regrettably, the GPS routed the group down a muddy farm road that was almost impassable. After calling the winery and getting re-routed directions, the caravan turned around and finally arrived at our destination. It was worth the trip. Tilly, the black lab, solicited petting as we arrived and kept us company during the tasting. The group was treated to a tour by the owner, who showed us the wine making process. For a small operation, they made very good wine.
Dinner that evening was at Big Tex BBQ. The most popular dish was fried catfish, and a few enjoyed a large margarita topped with whipped cream. Afterwards the group headed back to the hotel, but the weather proved too cool to sit outside, so we all congregated in one room and shared wine and stories.
Saturday morning, most headed back to Robson Ranch.
The Roving Ranchers prepared for their next adventure, the Halloween Golf Cart Parade on Oct. 31.