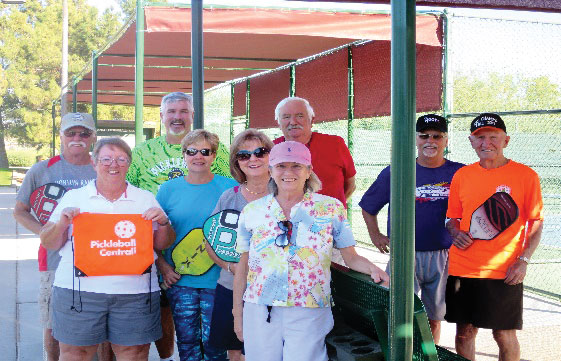 Chuck Bonesteel
Last spring AL and Barb Hager attended an event at the Eloy Santa Cruz Valley Union High School. There they met Mr. Tom Joice, a physical education teacher at the school. During that meeting the subject of pickleball bubbled to the top of the conversation. AL and Barb agreed to teach the students about pickleball and held some training sessions with the students.
Building on what AL and Barb Hager started, Mickie Storckman, Eloy's USA Pickleball Association ambassador, contacted Mr. Joice to determine whether he would be interested in doing something similar during the 2017/2018 school year. He agreed, and they established a two class, Monday/Wednesday schedule teaching physical education students pickleball. Classes started November 13, 2017 lasting for three-weeks with over 50 students participating.
The school purchased three temporary pickleball nets, and Mr. Joice laid out three pickleball courts on the outside basketball courts. Between the two physical education classes there were over 50 boys participating. Robson Ranch Pickleball Club members covered the serve, return of serve, ground strokes, dinking, basic rules, limited strategy and scoring. Over the three-week period the boys demonstrated tremendous progress despite just being exposed to the game. At the end of the third week we conducted a student tournament with a Gold, Silver and Bronze medal awarded to the first, second and third place teams (two students on each team) in each class.
Mickie Storckman contacted her fellow club members soliciting the donation of any paddles club members no longer needed and members to assist with teaching the classes. Clearly this program could not have achieved any level of success without substantial assistance from the Robson Ranch Pickleball Club members. As has always been the case, when club members are called upon, members are responsive. Mickie received 24 paddles from club members. She also received 10 paddles from Diane Zimmerman and David Zapatka who represent Pickleball, Inc. during pickleball tournaments. The Robson Ranch Pickleball Club and Al Hager also donated over 60 pickleballs. Eleven club members volunteered to assist with teaching the classes.
Mickie wanted to publicly acknowledge everyone's assistance and express her sincere appreciation to all for their generosity of equipment and/or time donated to this program.
At the end of the session Mr. Joice indicated a desire to have another class next semester. The girl's physical education teacher expressed an interest in her students learning the game. Another session involving boy's and girl's classes will be held beginning in late January of 2018. Should you be interested in assisting with this program during the next session, please do not hesitate contacting Mickie via email at [email protected]