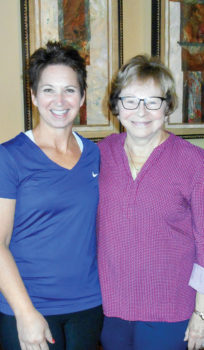 Reneé L. Kleinjan
The Robson Ranch Arizona Ladies Social Club's luncheon guest speaker in April was Robson Ranch of Arizona's Lois Moncel, Director of Fitness and Wellness.
Lois started her position as Director of Fitness and Wellness for Robson Ranch in 2017. After giving us a little personal history, she talked to attendees about the importance of fitness. She asked if we were on the ground, could we get up and go? She demonstrated strengthening that can be done by standing halfway up from a chair and holding our position, and then going a little further down, holding our position before sitting down.
Upper-body strength can be gained by lifting something up high, such as in a closet or cupboard. Another balance technique is holding a foot off the ground with your eyes closed. Lois also showed us leg exercises—for example, bending one knee then closing your eyes. Another exercise was moving your foot heel to toe. Lois also had one of the attendees do fast running side to side as another exercise. If you cannot do an exercise, Lois can help you by giving options.
As for exercises that can be done at home, Lois also shared a 30-day challenge which involved home exercises. If this is something of interest, she has the exercises available in her office or can send them via email.
If one has balance problems, Lois suggested checking with a doctor, as vertigo can affect balance. A suggestion she offered was possibly taking Vitamin D: for women up to 70 years old one might take 600 mg; for 70 years and up, 800 mg or even 1,000 mg would be beneficial.
In May, she explained that she planned to change up exercises with a yoga fit program, water walking and balance, and light ban or weight exercises. Some of the fun things being added for summer are water volleyball, ping pong, badminton and horseshoes. The horseshoes and water volleyball will be outside activities but the rest will be indoors. Lois said there would be no advanced signup for these activities; all you have to do is come and join in.
If you are unsure whether you would enjoy an exercise class, Lois said that if you wish to try a class for free, just let her know ahead of time.
Kay McMurray thanked Lois Moncel for all this great information and the handout she gave interested attendees.
The Robson Ranch Arizona Ladies Social Club will be taking a summer break and will be resuming their meetings in September. Hope to see you at our luncheon in September.