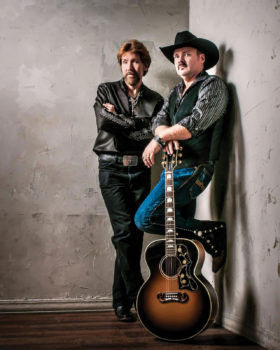 Join us for Concert Buffet and Limited Menu on Friday, July 6. The buffet will be from 5:00-7:00 p.m. with the Limited dinner menu available from 5:00-8:00 p.m.
Chef Jeff's Friday beef or fish special is not available.
$15 (plus tax and gratuity), Military Discount $13.50 (plus tax and gratuity)
Reservations are required. Make yours now by calling 520-426-3331, Press 1 for Hostess.
Entertainment that evening will be Neon Circus-The No. 1 Tribute to Brooks & Dunn.
Menu: rolls and butter balls; composed tossed greens with shredded carrots, tomatoes, cucumbers, green onions, mixed cheeses, croutons, ranch and Italian dressing; pasta salad; green chili pork stew with warm flour tortillas; beef stroganoff with buttered noodles; fresh vegetable medley; mashed potato bar with sour cream, bacon, whipped butter, shredded mixed cheese and green onions; and Chef Jeff's selection of desserts.