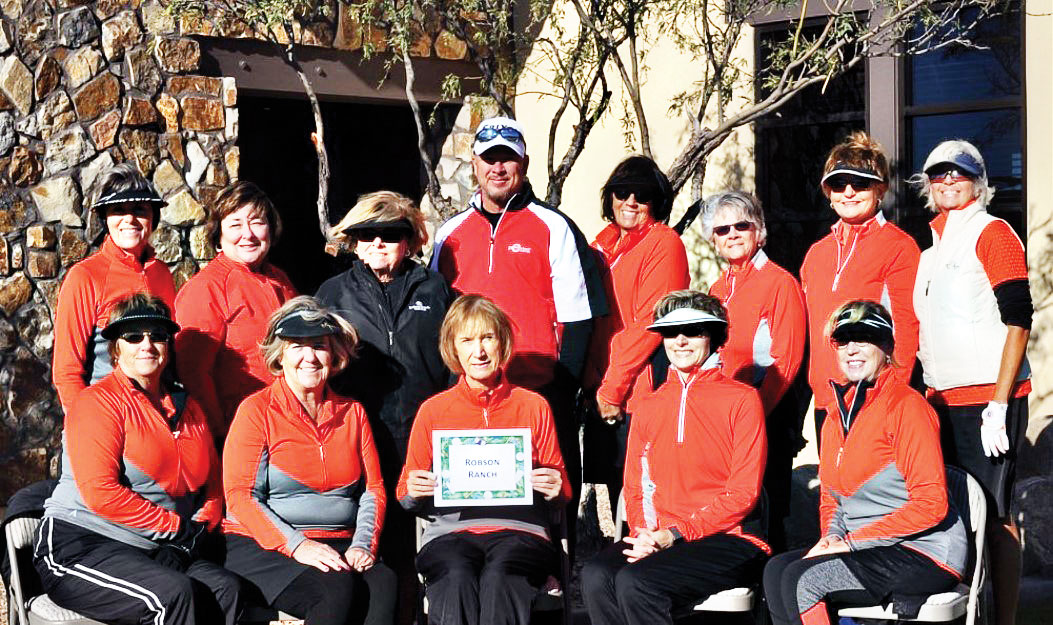 Russ Stocek
The Men's Robson Challenge was held at SaddleBrooke Ranch Golf Club on November 14. Fifteen guys qualified for the event plus our club pro, Jay Wilson. The best 12 of 15 plus the pro's score were combined to determine the winning team. SaddleBrooke Ranch, Quail Creek, PebbleCreek and Robson Ranch all sent teams to the event.
The low team score was 921 by SaddleBrooke Ranch with Robson Ranch posting 924. Our loss was only three strokes; so close! The other clubs had 958 and 964 so there was a large gap between the top two and the others.
The team consisted of the first and second place winners of the Club Championship and the Senior Club Championship. These were Jim Baxter, Nick Pike, Joe Miller and Ben Blissett. The others were the low net players in the November 7 qualifier event. These were Larry Sundin, Keith Olson, Scott Gripentrog, Roger Shelton, John Burtis, Bob Wilson, Eldon Lee, Craig Spittel, Dale Mumy and Terry Kumbera. The organizer for Robson Ranch was Russ Stocek who also got to play.
Robson Ranch had many individuals that played well and won prizes.
A Flight: 1st low gross, Jim Baxter with 71; 1st low net, Bob Wilson with a 63; 2nd (tie), Scott Gripentrog and Keith Olson with net 67s; 5th, Joe Miller with a net 69.
B Flight: 1st, Eldon Lee with a net 65; Closest to the Pin was won on Hole No. 12 by Terry Kumbera.
We had a successful outing for the Robson Challenge this year and it was the second year in a row that we were second and close to winning the cup. Next year we will make it happen when it is at Quail Creek. Great job by all the guys that played in the qualifier and especially the event.