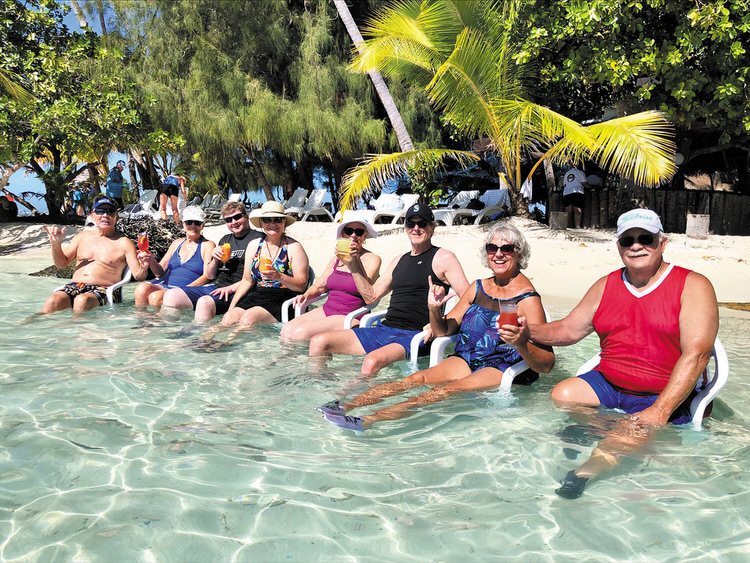 Kimo Dejon
On June 27 through July 12, the Ranch Travel Group, residents in Robson Ranch, traveled to Tahiti and began an 11-night sailing on the beautiful Wind Spirit yacht, one of the six Windstar yachts plying the seven seas.
We flew to Tahiti via Los Angeles aboard Air Tahiti Nui and were able to spend a day and night at the iconic InterContinental Resort and enjoy all the picturesque views from the expansive grounds of the oceanfront property. The resort has a direct view of the island of Moorea, which many, including Kimo Dejon, consider the most beautiful island in the world.
On the afternoon of June 29, we embarked on the amazing Wind Spirit yacht, a 430-foot-long sailing beauty with only 148 guests aboard.
The staff and crew are committed to providing 5-star service and the food and drink are superb, as Windstar Cruises is the one and only official partner of the James Beard Foundation, ensuring excellence in all restaurants on each of the six yachts.
First, we sailed to the Tuamotus—Fakarava and Rangiroa—then on to the Vanilla island of Taha'a and Motu Tahea for a private island barbecue and to enjoy the bluest waters for kayaks and paddle boards.
It was on to Ra'iatea for the evening and the next day with kayaking the Faaroa River and visiting Tahitian Black Pearl farms.
Then we sailed to Bora Bora and anchored in the famous lagoon under the famous landmark Mt. Otemanu. While at Bora Bora, we had our Polynesian Festival on a private island with a sumptuous buffet and the best fire dancers in Tahiti.
Our final stop was Moorea—the most visually stunning island in the Society Islands and possibly the world—where we enjoyed and explored shore excursions, including the highest peaks on the island.
The final extravaganza was the Signature Deck Barbecue and party, and it was an event that is exclusive to Windstar yachts on all their cruises to more than 170 destinations around the world.
Kimo Dejon and his Aloha Adventure & Leisure Travel company arranged everything included in the Dreams of Tahiti adventure for two weeks.
Windstar Cruises STAR Specialist Kimo is also a Certified Tahiti Specialist awarded by the Tahiti Tourism Board and escorts Ranch travel groups twice a year, with the next adventure scheduled for February.
For Robson Ranch residents wanting to join two groups in 2024 for our Dreams of Tahiti bucket list adventure, contact Kimo at 541-480-8585 or [email protected].