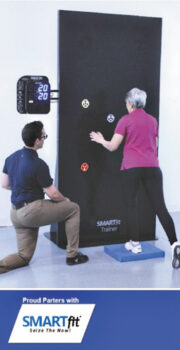 Lois Moncel, Director of Fitness & Wellness
SMARTfit, a tool in the Sports Club, has three different modes that offer benefits to every fitness level.
Games—this mode offers a variety of games/activities that will allow you to get a workout that challenges you regardless of your fitness level.
Performance and Fitness—this mode offers cognitive-motor training while delivering the most powerful athletic training for athletes at all levels.
Rehabilitation and Prevention—this mode offers activities that target specific areas that are most commonly injured, such as knees, shoulders, hips, lumbar, and ankles. SMARTfit also focuses on the mitigation of falls in older adults.
Check out what Alex, a Robson Ranch resident who is currently recovering from a traumatic brain injury (TBI), says about SMARTfit: "I wish I could be at Robson more since the recovery from the TBI is much better with the SMARTfit than anything else I have tried! Anyone with a concussion or TBI can benefit if they can use it! SMARTfit has been such a blessing … an answer to prayer!"
To learn more about SMARTfit and how it can help you, contact Lois Moncel at [email protected].