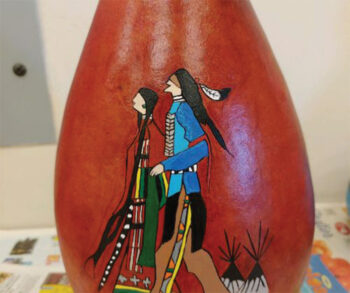 Martha Spillane
This month's gourd news will be a memorial to our dear gourd member, Terri Mount who lost her fight to cancer on March 11. Terri and her husband Barry have been residents of Robson Ranch for eight years. Terri originally came from New Jersey where her son, daughter, and grandchildren reside. Terri also leaves behind many good friends from New Jersey and from Robson Ranch.
You could often see Terri with her two Scottie dogs at the park, and playing Hand & Foot and mahjongg with her friends always scored high on her list of fun things to do with the ladies. There was always a reserved table at the grill on date night; the following day we would anxiously await Terri's review. Her reviews were always positive because that's the kind of person she was, always positive.
I met Terri back in 2019 when my husband Michael and I took our first gourd class, we both felt very comfortable by the friendly atmosphere and how helpful everyone was. Terri was always there to lend a helping hand whether it was advising or lending a supply. I loved the way she would say "Hey Mikey" when he walked into the club room. It's always the small things that you remember about a person that will bring a smile to your face. I'll miss her, "Hey Mikey."
She was prolific in gourds, her precision, color palette, and designs made her work outstanding. Each pattern was first hand drawn on her sketch pad showing the design, color placement, and colors. Her patience in using the measurement circles and a tape measure to reproduce the design exactly would have been absolutely exhausting for my brain, but not for Terri. Her end results were always spectacular.
I think I can speak not only for myself but for all who knew her, how fortunate we were to have had her in our lives! She will be missed by all.