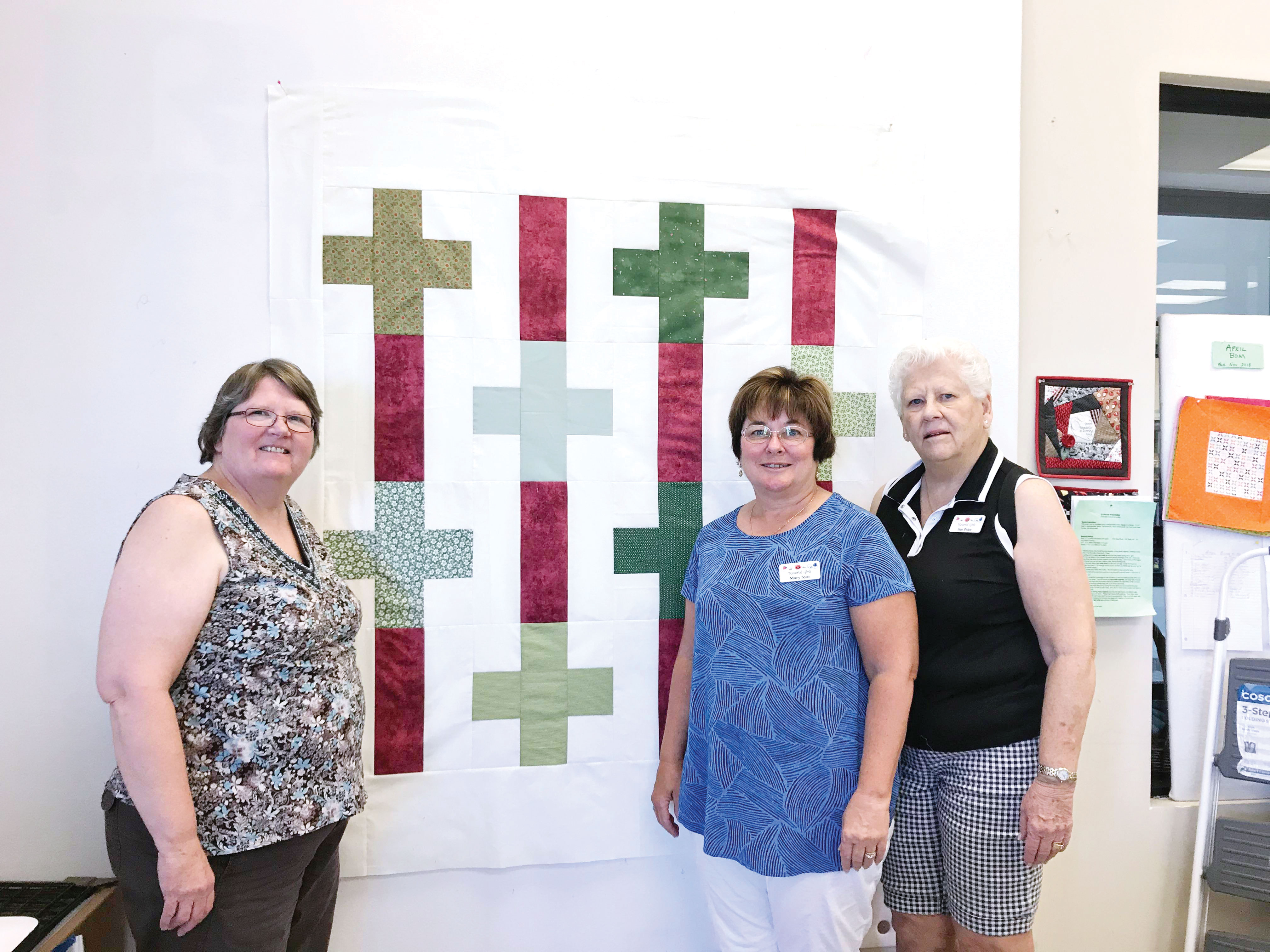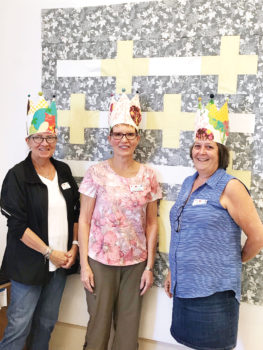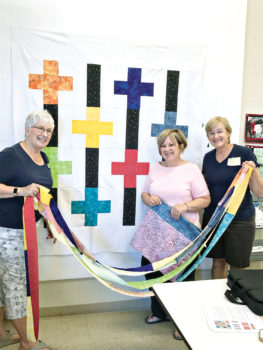 Jean Handlen
OMG! Do these ladies know how to have fun and be productive at the same time! On Friday, May 4 the RR Material Girls decided to have a little fun and held a speed quilting event. The ladies teamed up into three teams of three members each to compete to see who could complete a quilt top first. The idea was for two ladies to sew and the third lady was to press the seams and shuttle them back and forth between the ironing board and the sewing machines to keep the sewing going. The winning team of Joy Swanson, Diane Bohmert and Candy Schinman finished in record time. The second team to complete their top as well as the backing and binding before the third place team completed all three components of their top was Bea Pressler, Lois Sauers, and Deb Ellis. Our third place team was Sue Price, Donna Payne and Mary Syer. Everyone had a wonderful time and three quilt tops were completed and will be donated to one of our charities. Our thanks go out to Mary Syer for organizing this event and we look forward to doing it again.
This year, we are supporting the Family Advocacy Center for Children and providing the Eloy Police Department with two quilts for each police car for when they must remove a child from a home. The Material Girls support the local cancer center for patients having chemo. The Material Girls has also supported the Eloy Senior Center for four years by annually providing a quilt or pillowcase to all of the residents. We also make comfort quilts for our own residents who have a serious illness or who have lost a spouse. Please contact either Bea Pressler at 520-858-5379 or Marge Doughty at 360-739-9990 if you know of a Robson resident who might need one.
The Material Girls welcomes all residents who have a love for sewing and/or quilting to join our club. Dues are $20 per year and you can visit two times before dues are collected. Monies from our dues, profits from our raffle quilt ticket sales and the craft fairs support the purchase of fabrics and supplies we need to fulfill our ongoing commitments to our charities.
If you would like more information about the club, contact Barb Chmilar at [email protected], phone 250-573-2808 or Jean Handlen at jrhan[email protected], phone 817-874-0971.