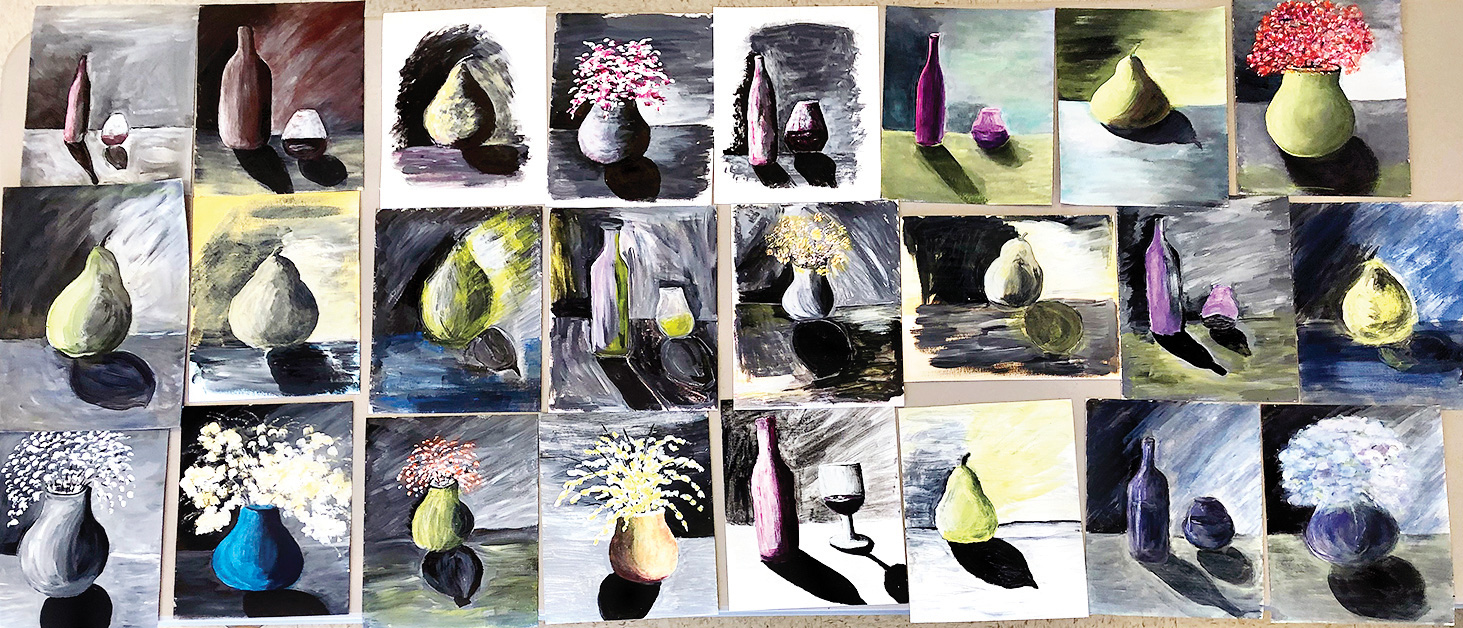 Nancy Friedman, Co-Education Director
On the last Friday morning of September, Nils Johnson asked several participating artists to unbridle their minds and paint what came to mind when given the words: kiss, claustrophobia, and freedom. They were to paint for two minutes using only black and white paint. After loosening everyone up, he demonstrated the easy drawing of a pear, a wine bottle with a glass, and a vase of flowers using simple shapes like circles, rectangles, and ellipses while using only his brush lightly held at the very end. Nils then gave each painting shadows and highlights with a variety of gray shades between black and white. Finally, he glazed over each painting with different transparent acrylic colors for a finished, unconstrained painting.
Everyone in attendance enjoyed the class and the interaction with other artists, which has been missed these past months. The participant's results are revealed in the accompanying photograph.
Nils has attended a couple of Robert Burridge's classes among others. He brings his knowledge back to the Fine Arts Guild to share. We thank him not only for his teaching ability, but also for being our treasurer and the woodworker who has done so much to add to our studio.
This was the second art demonstration held since the studio reopening due to the COVID shutdown last March. By limiting our class size, using social distancing, and wearing masks, the Fine Arts Guild is getting back into the groove. With our membership at 58 people, we will be repeating classes to accommodate most of our members, especially those who had classes canceled due to the COVID closure of our studio.
The Fine Arts Guild is located in Studio II of the Creative Arts Center, which is at the very end of the building near the empty field. At the time this article was written, the open studio hours were Monday, Wednesday, and Friday from 9 a.m. to 12 p.m. As more members return to the Ranch, we hope to increase the open studio hours to meet the needs of our membership. Open studio hours are posted at the door of the studio each month.
Mask up and drop by to see a variety of artwork, which is always for sale!