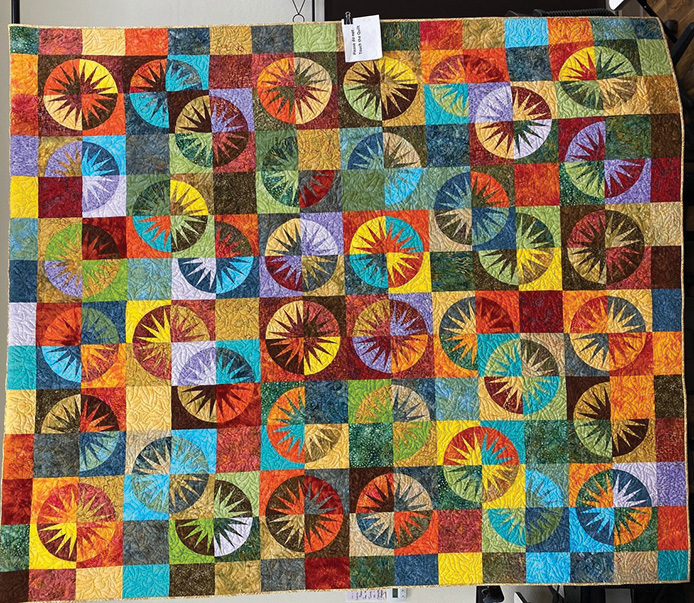 Diane Bohmert
The Material Girls beautiful "Desert Sky" 2020 Raffle Quilt Drawing will be held on Saturday, Nov. 14, at 1:45 p.m. at the Creative Arts Center outside the Material Girls Sewing Studio.
COVID precautions will be followed, masks are required as well as social distancing.
Ticket prices are $1 for one ticket, $5 for six tickets, $10 for 12 tickets, and $20 for 25 tickets. Tickets are currently on sale through contactless delivery by calling or sending a text to Rebecca McKinney at 619-672-7316.
Additionally, raffle tickets will be sold in-person starting at 10 a.m. the day of the drawing until 1:30 p.m. Exact change or checks written to Robson Ranch Material Girls are requested to limit exposure. During the raffle drawing, excited supporters (potential winners), we ask that you watch the drawing from the parking area. Winners need not be present to win. If not present, the winner will be contacted and arrangements will be made to receive the quilt.
The Material Girls thank everyone so much for their support and good luck to all who bought tickets!
If you know of a Robson Ranch resident who is suffering from cancer, life threatening illness, or with a spouse who has passed, contact the Material Girls Charity Quilt Chairman, Marge Doughty, at 360-739-9990 or [email protected], or a member of our committee chair: Diane Bohmert at 651-434-1902, Karen Karpinski at 815-954-0766, Karen Furu at 520-429-4366, or Bea Pressler at 520-858-5379.
We don't want to miss anyone that is deserving of a quilt.