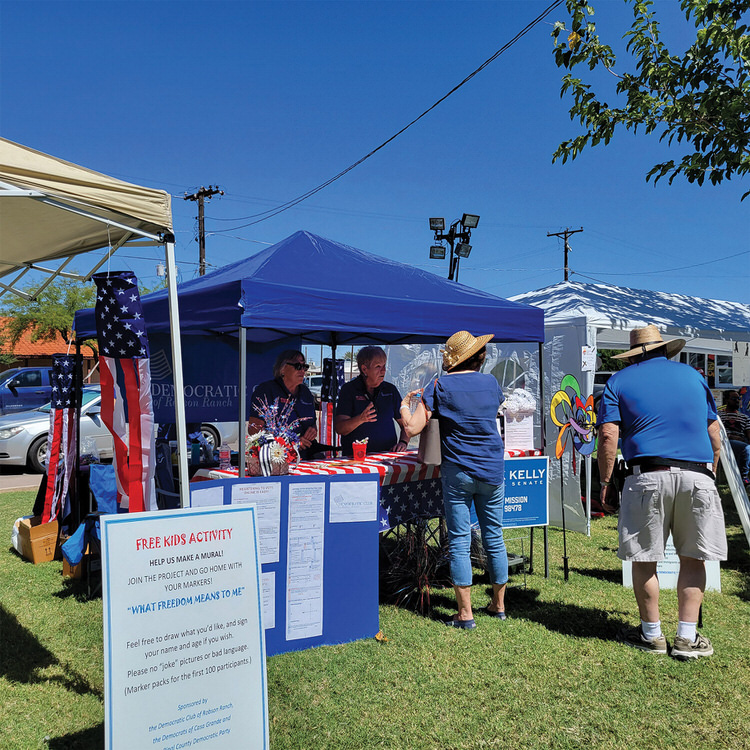 Deborah Dorman
The Democratic Club of Robson Ranch attended the Eloy Fiestas Patrias on Sept. 16 and 17, providing an information booth, and together with the Democrats of Casa Grande and the Pinal County Democratic Party, had a special booth for kids to draw a mural. There was no political content to the kids' activity, and about 70 children, one mom, and one grandmother participated. Each child left with a new pack of colored markers to keep. The resulting mural will soon be displayed by Angela's Closet in Eloy. Angela's Closet is a great resource for students and families in need of support, from food to household goods and clothes, as well as computer help and more.
On Oct. 7, the Democratic Club, in conjunction with the Democrats of Casa Grande, hosted a candidates' event in the Hermosa Ballroom. Candidates who attended were Kirsten Engel for U.S. Congress, Taylor Kerby for Arizona Senate, Keith Seaman for the Arizona Legislature, and Miles Main of Mission for Arizona, representing Mark Kelly. Martin Quezada, running for Arizona Treasurer, was unable to attend at the last minute due to a death in the family. Videos were presented for gubernatorial candidate Katie Hobbs, Mark Kelly for U.S. Senate, Lauren Kuby for Corporation Commission, and Adrian Fontes for Arizona Secretary of State. The event was attended by more than 70 people, mostly from Robson Ranch, and emceed by Ralph Atchue, the head of the Democrats of Casa Grande. Attendees were treated to delicious hors d'oeuvres and rousing speeches. It was the first time an event of this size and stature for Democratic candidates has been held at the Ranch.
In addition to various election-oriented activities the club's members were busy with, they held an annual costume Halloween Party on Oct. 31 and continued a tradition of monthly Bunco gatherings.
For information on joining, contact Roger Oleson at r[email protected] or Deborah Dorman at [email protected].