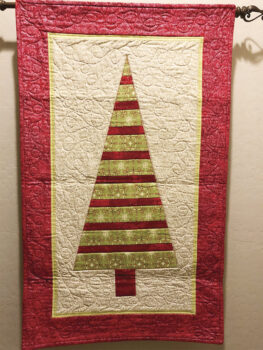 Susie Klopp
We have been good little girls and boys this year, mostly. We can't help it if Mary Jane buys fabric just because it's pretty and she hasn't figured out a project for it yet—and just because a pattern calls for a yard and we buy two. You just don't know, you may need extra. Remember we make quilts for family, friends, and people in need of comfort. OK, so Sally Beth can't pass up a sale on anything. We will need all that batting and backing material, eventually.
New steam iron? Well, yeah, but it was a very special steam iron and the old one leaks. Over budget? Was there a budget? It's so pretty and shiny. This stuff is very important. No one can have too many rulers, rotary cutters, markers, and sewing pins.
Now it's not our fault if Jimmy got carried away with his project and had to make more than one. It worked out in the end. Sort of. Haven't you ever heard of a test model? Besides, it was really cool.
Thread? What or should I say which thread? Oh well, you can't use the same thread to quilt with as you use to sew the blocks together. Everyone knows that. No Santa, you can't quilt with metallic thread, that's used in embroidery. Very nicely, by the way! Remember Jessie Sue's Christmas stocking that you liked so much last year? And Susie Q won't applique with anything but silk. Go figure!
Please remember that we try to be good girls and boys. It's hard when the world is full of sewing stuff. And it's all SO pretty!
Love, the Material Girls and Boys