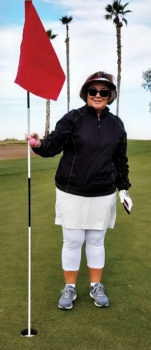 Barbara Gayer
Mary Syer had a hole-in-one on December 12 during league play. Mary was using her 7 iron on hole No. 6! Congratulations, what a great Christmas present!
Results from December RRLGA Play Days
December 12, 2017 (Best Ball Plus All Par 3's) Four person teams
First: Patti Baumann, Patty Bruchez, Jan Kinley, Mary Syer
Second: Regina Bellach, Nancy Kraus, Margie Poplawski, Susan Worner
Third: Glady Miller, Mary Pryor, Lorna Watts, Linda White
December 19, 2017 (Best Ball Blind Draw) two person teams
Flight 1: 1st Karen Connell, Kathy Holwick; 2nd Candy Burtis, Shirley Eliuk
Flight 2: 1st Robin Barber, Glady Miller; 2nd Lois Hammond, Mary Pryor
Flight 3: 1st Pam Mumy, Margie Poplawski; 2nd Cathy Edge, Deb Parker
Flight 3: 1st Mona Rod, Mary Syer; 2nd Patti Baumann, Mary Syer (blind draw)
December 26, 2017 (Train Wreck)
Flight 1: 1st Candy Burtis; 2nd Bobbie Johnson
Flight 2: 1st Gloria LaMere; 2nd Margie Poplawski, 3rd Linda Stach
RRLGA is pleased to welcome our newest member Betty Harrison.
If you are interested in joining the RRLGA contact our membership chair, Robin Barber,  at playballnine@hotmail.com.