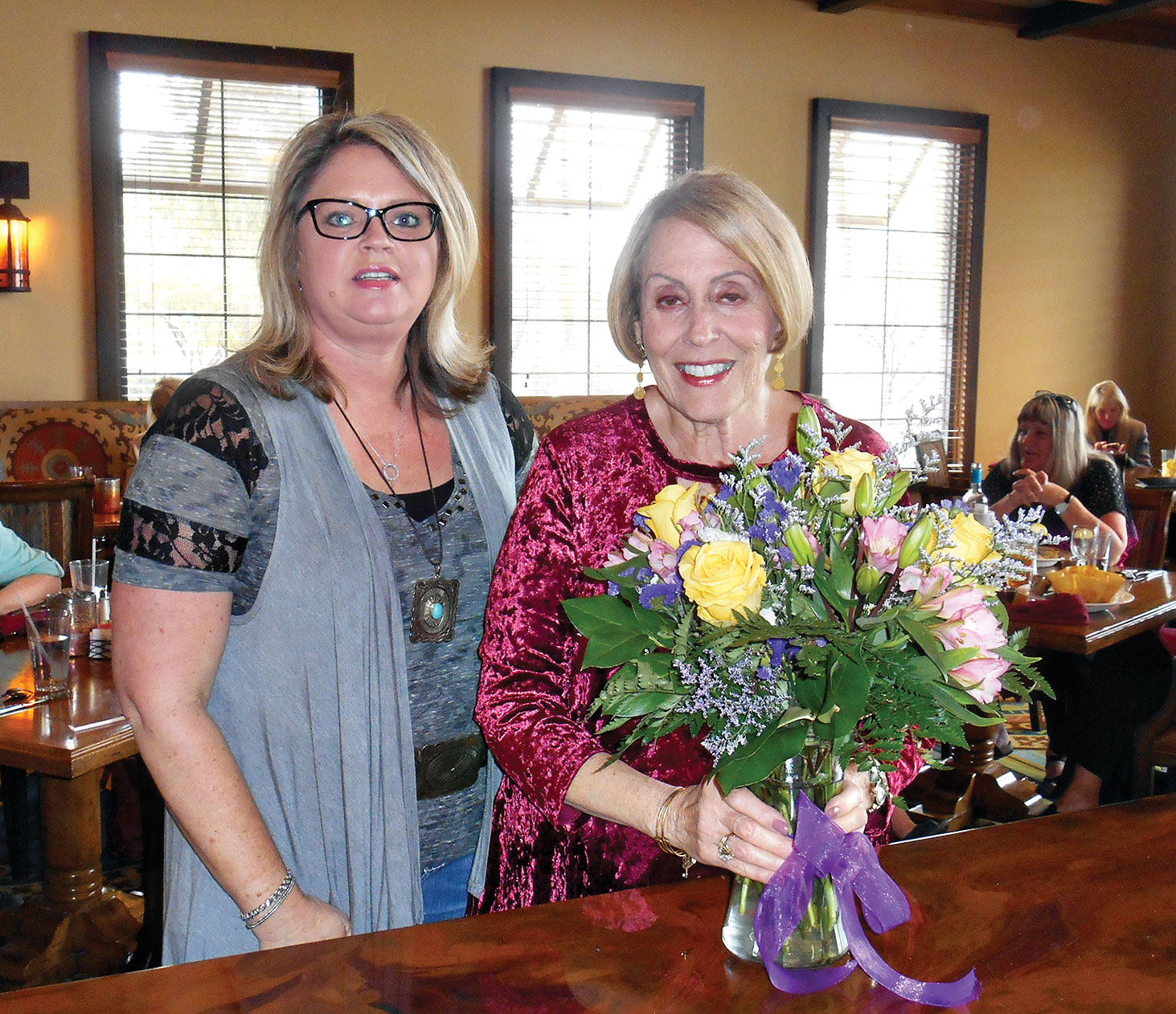 Reneé Kleinjan
The Robson Ranch Arizona Ladies Social Club's first meeting of the new year was held on January 8, 2018. Our guest speaker was Tresli Sullivan, one of the shop's designers, from Janet's Flower Shop in Eloy. Tresli is the daughter of owner Janet. Janet's Flower Shop is a 40-year-old family business. Her grandfather built the building they are located in at 102 E. Phoenix Avenue. The shop is open Monday through Friday from 9:00 a.m. to 5:00 p.m. and closed Saturday and Sunday. Currently the shop is gearing up for Valentine's Day which is a very busy time for the shop.
Ms. Sullivan took us step by step in creating a bouquet by adding flowers and greenery. She shared some very helpful information such as: adding plant food; using wire to help support roses and carnations; cleaning of the leaves off stems going into the water to avoid bacteria; and frequently adding cold water to keep the flowers healthy. When her beautiful bouquet was completed, it was raffled off and Ruby Herman was the lucky winner.
The club has been conducting a scholarship raffle to raise funds for college book expenses for Santa Cruz Valley Union High School graduates who plan to attend college next year. The raffle ticket purchasing concluded on December 31 with 69 tickets sold at $25 each. As an incentive for purchasing tickets for this raffle, a drawing for a $500 gift card for the Hyatt Regency Scottsdale Resort and Spa at Gainey Ranch was offered. Barbara Crawford, Scholarship Chairperson, asked a new attendee to draw the lucky name from the entries and Mary Beth Fisher was the lucky winner of the gift certificate.
Our scheduled speaker for February will be Mr. Jimmie Kerr. Mr. Kerr is a native Arizonian and prominent figure from Casa Grande for whom a road right outside Robson Ranch is named. Mr. Kerr owned a dry-cleaning business in Casa Grande for 37 years and has served the city of Casa Grande for 40 years in a variety of positions. His stories of life in Casa Grande should be very interesting.
February's luncheon will be held on Monday, February 12 at 11:15 a.m. in the dining room. Our food selection for this lunch will be chicken and tuna salad on a bed of lettuce and a hard cookie. All women from Robson Ranch are invited to join our meeting. To make your reservation, email Geri Nagy at [email protected], but if that is not possible phone her  at 836-6249.