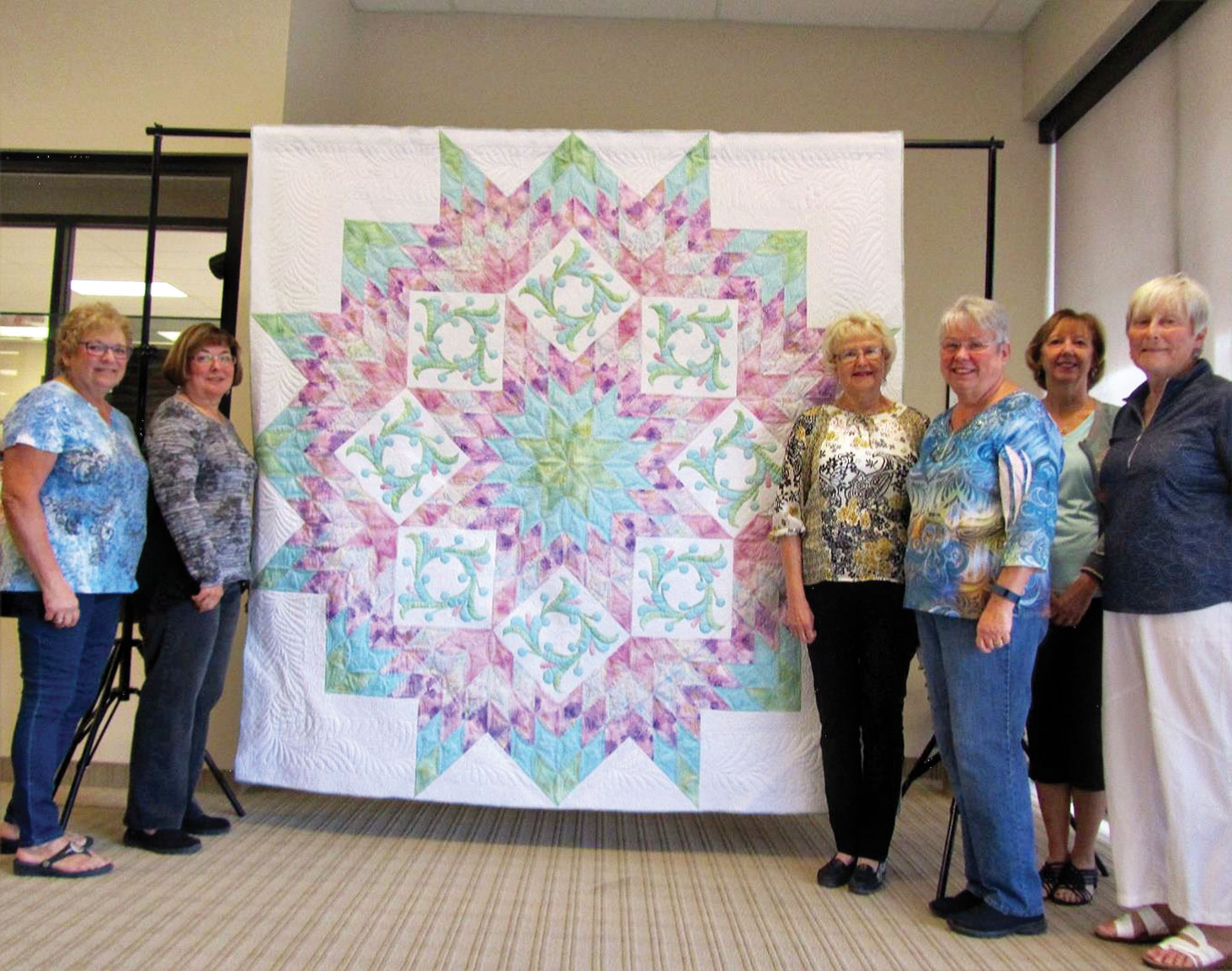 Barbara Chmilar
We are passing the torch from the Raffle Quilt Committee who chose the design and constructed it to the Raffle Sales Committee who will take it from here and present it to various venues to sell the tickets.
The pattern is called Spring Showers. The quilt committee started it in March and it took until late June before they had the top assembled. Gayle Strack did all the applique blocks; Sherrill Simmons and Mary Syer put the rest of it together. It was professionally quilted by Penny Allen in Tucson.
Stop by the Material Girls table at DesertFest and purchase tickets to win this beautiful quilt. Price of the tickets is one for $1.00, six for $5.00, twelve for $10.00 and twenty-five for $20.00.
While Robson Ranch Material Girls take great pride in the quality of their work on these raffle quilts we never lose site of the ultimate goal which is to raise funds for our various charity projects, and their comfort quilt program for the Robson Ranch residents in need. "We can't help everyone, but everyone can help someone" which is what we strive to do.
Some of their fun projects such as block of the month, which is a learning tool for different techniques, ultimately ends up as a charity quilt. Quilt 'til you wilt days are sometimes turned into craft fair items, again always looking at fundraising to further our charity efforts in a fun filled atmosphere. The Robson Ranch Material Girls have a lot of dedicated workers on various committees to make sure the club is a fun place of learning and fellowship.
Last year as well as this coming year we are supporting the Family Advocacy Center for Children and providing the Eloy Police Department with two quilts for each police car for when they must remove a child from a home. The Material Girls has also supported the Eloy Senior Center for four years by annually providing a quilt or pillowcase to all of the residents. We also make comfort quilts for our own residents who have a serious illness or who have lost a spouse.