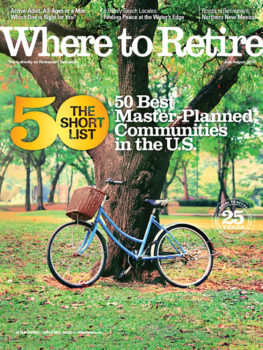 Sherry Jackson, RCI, Corporate Communications
Two Robson Resort Communities, Robson Ranch Texas and Robson Ranch Arizona, have been named to Where to Retire Magazine's tenth biennial list of the top 50 places to retire in the U.S.
Where to Retire revealed "The Short List: 50 Best Master-Planned Communities in the United States," in the July/August issue. The list is touted as the only one of its kind, focusing on communities rather than locales and featuring first-person testimonials by current residents. Robson Ranch in Eloy, Arizona was one of nine communities in Arizona and Robson Ranch Texas, located in Denton, Texas, was one of four Texas communities that made the list.
According to Where to Retire, the lure of Robson Ranch Arizona is that "life is a vacation" at the community. "The recreation complex features multiple pools, 16 pickleball courts, exercise facilities and massage and steam rooms for recovering from the day's activities," the article says. Residents interviewed say they love the community as there's "so much going on" and were inspired by the community's "beauty and hospitality."
At Robson Ranch Texas, Where to Retire cites the community's "endless entertainment" options, on-site courses from the University of North Texas and mentorship programs at a nearby elementary school. Residents Julie and Bob Laderach say they "fell in love with the community" and they appreciate the "seamless home buying process, staffed entry and roving security."
The selected 50 best master-planned communities showcase the variety of housing options and amenities that enrich the lives of relocating retirees. "A superb transplantation requires a move to an advantageous and nurturing spot. Over and over again, residents from these 50 communities boasted about having established new, lifelong friendships with neighbors who create an upbeat environment and activities that keep them fit and busy," Where to Retire editor Annette Fuller said. "The communities we chose are stunning in the viewfinder, with locations along the coast, in the mountains, near low-humidity deserts, by rivers and lakes and in proximity to major cities."
For a full list of all 50 communities that made the list, visit, http://www.wheretoretire.com/50best.cfm.