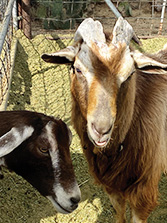 The Roving Ranchers went to the Toggenburg Goat Farm in Florence, Ariz., on Dec. 8 (www.toggenburggoatsaz.com). The farm is home to more than 40 goats and provides goat milk products to the local community and visitors. The Eatons, who run the farm, bought the property six years ago.
The Ranchers received a tour of the farm and learned how the owners utilize solar power for their home as well as water conservation. The tour included demonstrations about the care and maintenance of the goats from conception on, as well as upkeep of the property. The Eatons have 11 dogs that are a mix of Anatolian shepherds and Great Pyrenees. The dogs protect the animals and the owners and have been known to kill rattlers or coyotes who might trespass on the property.
Two friendly burros greeted the group when we entered. The rescued burros happily live at the farm. They enjoyed eating carrots fed to them by the visitors. As the tour moved to the goats' pen area, the goats tentatively approached the visitors, but scurried away if anyone got too close. Bucky was the male goat with the longest horns and beard.
After the tour, the group sampled butterscotch, peanut butter, chocolate, and peppermint fudge made with goat's milk. Samples of goat cheese were also part of the tasting. People spent some time in the small gift shop purchasing soaps, jewelry, fudge, prickly pear juice, hand lotion, and cheese.
Afterwards, the group drove into Florence for lunch at Lidia's Old Pueblo Cantina. The menu offered Mexican food as well as sandwiches, salads, and all-day breakfast. The best part was sipping the prickly pear margaritas. The food was delicious and the service was top-notch, even with a group of more than 20 people.