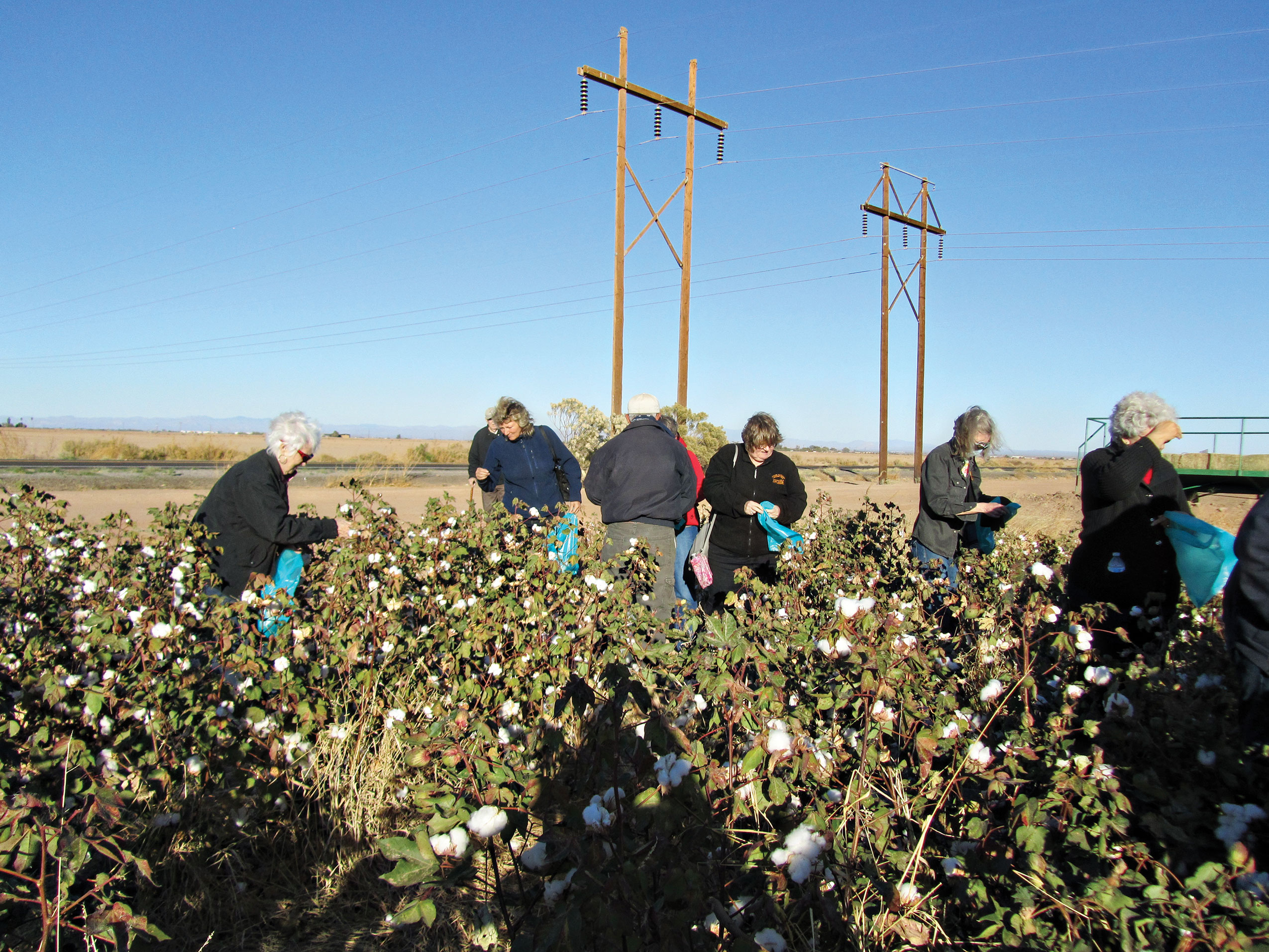 Barbara Chmilar
The history of cotton in the Valley began in 1885 with F.G. Hardwicke, who arrived in Tempe in 1878 to work as a blacksmith for Charles Trumbull Hayden. A few years later, Hardwicke took up farming — maybe in response to a local incentive encouraging farmers to try growing a new crop — cotton. To the first farmer successfully growing cotton, a $500 prize would be awarded. Hardwicke discovered that with the Valley's suitable climate and ample irrigation water, he could grow cotton with relative ease. By 1885, he had produced a good grade of cotton. He entered a bale of his handpicked and seeded crop at the Territorial Fair in Phoenix, thus becoming the first to successfully harvest cotton in the Salt River Valley and win the $500.
Cotton is the fabric of a quilters life and so several members of the Robson Ranch Material Girls ventured out to the Caywood Farm to have a look at the birth of what will become some of the most beautiful fabrics any quilter could hope for. Much to our surprise, it was very educational, and we learned that there is much more to cotton than just fabric. I personally probably now know more about cotton pickers than I need to, but it did broaden our focus…which, of course, is always centered around fabric. Who knew that the kernel is used in fertilizers, soap and cosmetics, or glycerin (used in explosives), pharmaceuticals and even food preparation? The hulls are used in feed, synthetic rubber, plastics and petroleum refining. The linters are used in dynamite, paint, toothpaste, ice cream and even currency and fine writing paper. Now that is serious use of that little fluffy plant we see as we drive by the fields.
The owners let us loose in a cotton field to pick some samples for ourselves—who knew what we would do with these branches, but we had to have them. It was a great ending to the day as we headed home with our treasures, thinking about turning them into artistic masterpieces.
Last year, as well as this coming year, we are supporting the Family Advocacy Center for Children and providing the Eloy Police Department with two quilts for each police car for when they must remove a child from a home. The Material Girls have also supported the Eloy Senior Center for five years by annually providing a quilt or pillowcase to all of the residents. We also make comfort quilts for our own residents who have a serious illness or who have lost a spouse. The Material Girls have not forgotten our furry friends, either, and donate all our scraps toward making beds for the shelter at the Pinal county fairgrounds.