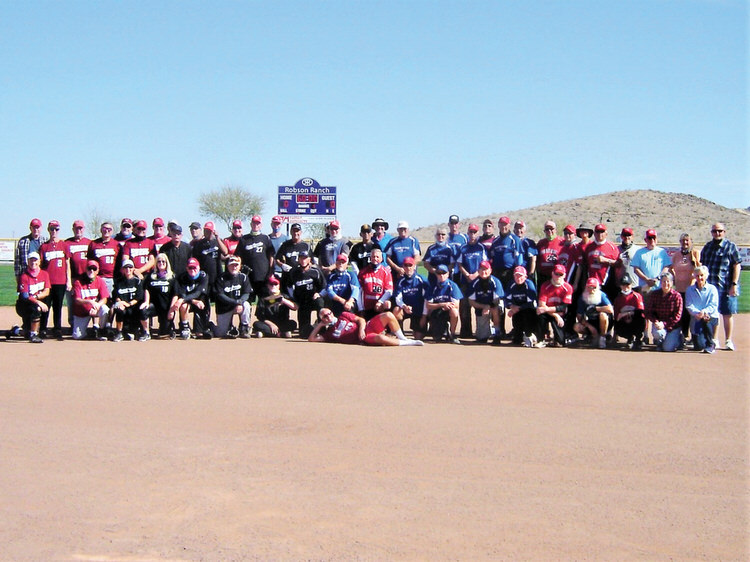 Ken Muhlbeier
With the winter softball season just completed, the Robson Softball Club is proud to say they were, once again, well represented in the Palm Creek League. With all teams and players participating under COVID protocols, the Robson softball teams played for the league championship at both the B and C levels. Although both teams came up short on the final score, they can be extremely proud of what was accomplished.
In the C league contest the Robson boys lost to the team from Sundance by a score of 15 to 9. In the B league final, the Robson team was bested by the Palm Creek team by a score of 22 to 21 in a game that had three extra innings. What an exciting game that was! In both games the players played their hearts out and a hearty congratulations goes out to all players and coaches for a job well done.
In addition to the Palm Creek league, the Softball Club is currently conducting an in-house league every Saturday here at Robson Ranch. This new league is going very well and is including both men and women who are enjoying a brisk competition and a welcoming atmosphere. There are plans being made to continue the competition by forming teams for more Saturdays in April. Stop by and watch or get involved as a player or as a volunteer. Volunteers are needed in the score booth and on the field as umpires. Ask any coach or player for assistance in getting involved.
The softball club wishes to thank the many volunteers that have made it possible to play the game we love. Announcers: Corky Rodine, Artie Wachter, and Randall Stitt. Scorekeepers: Steve Falek, Laura Schaible, Cathy Rodine, and Mary Camper as well as others. Scoreboard operators: Merlin Tiefenhaler, Ray Messervier, and others. Another 'thank you' goes to the club members who compromise the grounds crew that prepares the field for games every Tuesday, Thursday, and Saturday. All these volunteers help make the softball experience at Robson Ranch a fun and exciting way to stay active.
A final 'thank you' goes to the many sponsors who advertise at the RR ballpark. Our club depends on the money we make from selling banners to pay for a multitude of expenses including supplies and equipment needed for softball. We would like to encourage everyone to thank these businesses for advertising with us. Several club members have been involved with banner sales but a few individuals deserve special recognition. Paul Lewinski, Keith Uhlenbrauch, and Bill Sturgeon have worked above and beyond to secure sponsors, purchase the banners, maintain the displays, and keep the club financed. Also, Dick Southwick has recently been highly active in securing sponsors. All of us that play softball owe a huge debt of gratitude to these gentlemen. Please accept our heartfelt thanks.