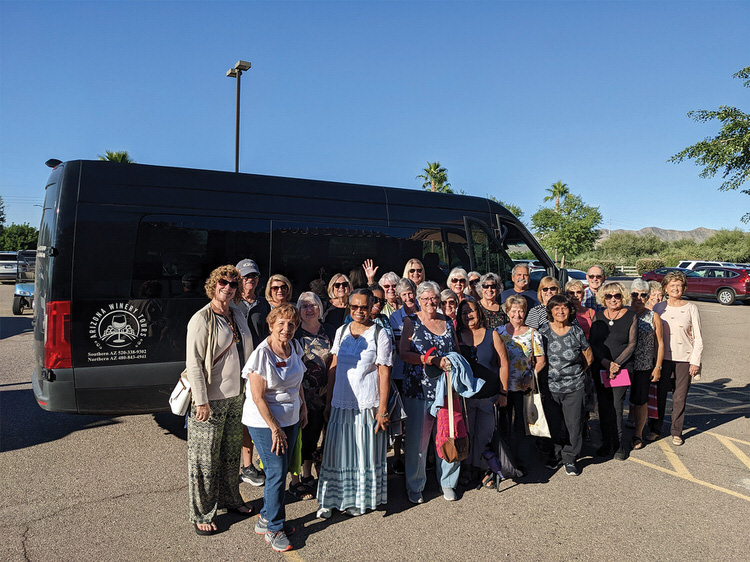 On Sunday, Oct. 9, 27 members of the Robson Ranch Singles Group were on the move again. The group has grown so much that this is the first tour where the group had two buses for the event. This tour was also held on a Sunday, which allowed some of those still employed to participate. It was great to have new members participate in the tour.
The tour began with the Patagonia Arts and Crafts Festival and included a barbecue and brews lunch prepared by the Patagonia Fire Department.
The next stop was the Los Milics Vineyards winery in Elgin. The group received a wine tour through the winemaking process, followed by five tastings at the vineyard. The vineyard has beautiful views of the Mustang Mountains and Bruce Mountain.
The tour was arranged through Arizona Winery Tours (Tucson) on private buses.
The bus tours have given many members of the Singles Group an opportunity to get to know everyone better and on a personal level. Chuck Senk, our fearless leader,  would like to thank everyone for committing to a day of travel, wine, sightseeing, and friendship.
The next trip is a distillery tour on Nov. 9. The Holiday Party is scheduled for Dec. 11, so save the date and more details will be released in the future.
Chuck has lots of ideas and is going to be organizing more trips, so watch for announcements on GroupWorks. Chuck also welcomes ideas!
Robson Ranch Singles Group is utilizing GroupWorks, a website where you can stay on top of the activities and what's happening. Be sure to join the Robson Ranch Singles Group under GroupWorks and include your phone number in your profile.
If you are single and would like to join our group, we meet on the second and fourth Tuesdays of every month at 2:30 p.m. and play games such as Qwirkle and 5 Crowns in the Fireside Room of the Robson Ranch Ranch House. Bring a friend!