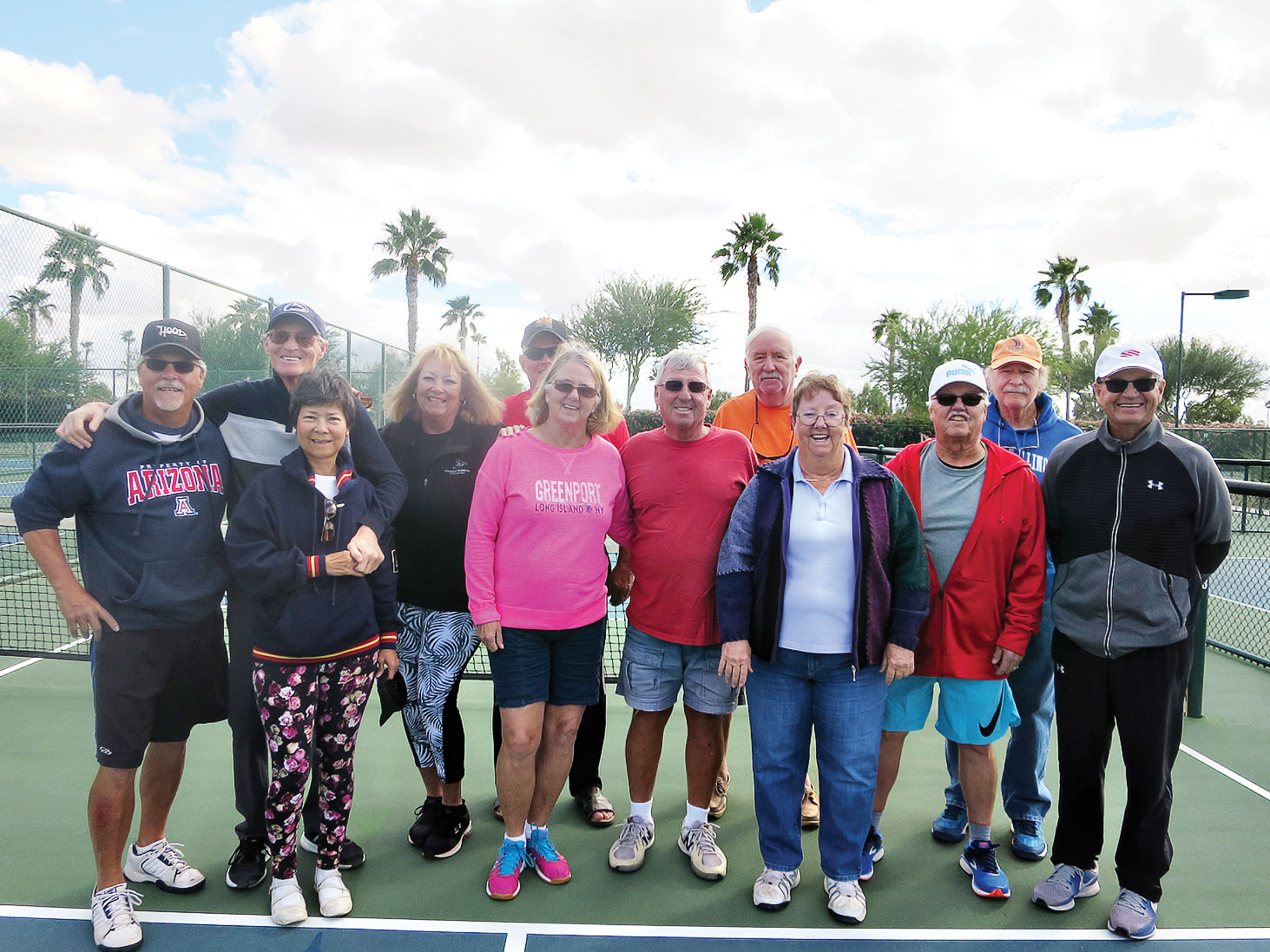 Chuck Bonesteel
Robson Ranch resident volunteers just completed our third semester of teaching basic pickleball at Eloy's Santa Cruz Valley Union High School. Mickie Storckman, who is the Eloy, Arizona, USA Pickleball Association Ambassador, would like to recognize and graciously and publicly thank the following residents for assisting in this endeavor. Robson volunteers included Steve Arthur, Mike Campbell, John Bigos, Barry Christenson, Frank and Ellen DeFusco, Iris Elderkin, Steve Falek, Kelly McKinna, Crissy Schroeppel, Larry Suskevich, Mickie Storckman and Bill Sturgeon. The responsibilities of the volunteers included coaching at a court, assisting students in scoring and officiating and providing student specific instruction volunteers identified during play. Some students were directed to the tennis courts for additional personal attention. We would also again like to acknowledge the Robson Ranch Pickleball Club and various club members who donated paddles and balls that are being used by the students. Additionally, we would like to acknowledge the consent of the Eloy High School administration and the assistance of high school coaches/class instructors Andrea James and Thomas Joyce.
There were approximately 55 student participants for the three classes. Classes were Monday and Wednesday with a girls' class at 8:00 a.m. and boys' classes at 9:50 a.m. and 1:20 p.m. During each class we focused on a particular subject/area of the game. We covered the court layout and equipment used. We briefly explained a minimal number of rules and scoring so the students could play the game. Finally, we covered the basic shots necessary to play the game such as serving, return of service, ground strokes and dinking. After a brief presentation on that day's subject, the students would take to the courts and apply what they learned while playing games or working on drills to improve their skills. As has been the case with each class, by the end of the session a number of the students demonstrated a very good basic understanding of the game, exhibited some basic skills and played well. Further, included in the class was a number of students who were taking the class a second time, demonstrating they were enjoying the game.
At the end of the sessions we held class tournaments with some excellent matches played. Each winning first place team recipient received a gold medal and $10 per team member. Second place team members each received a silver medal and $7 per team member. A bronze medal and $5 per team member were awarded for third place and $3 per team member for fourth place.