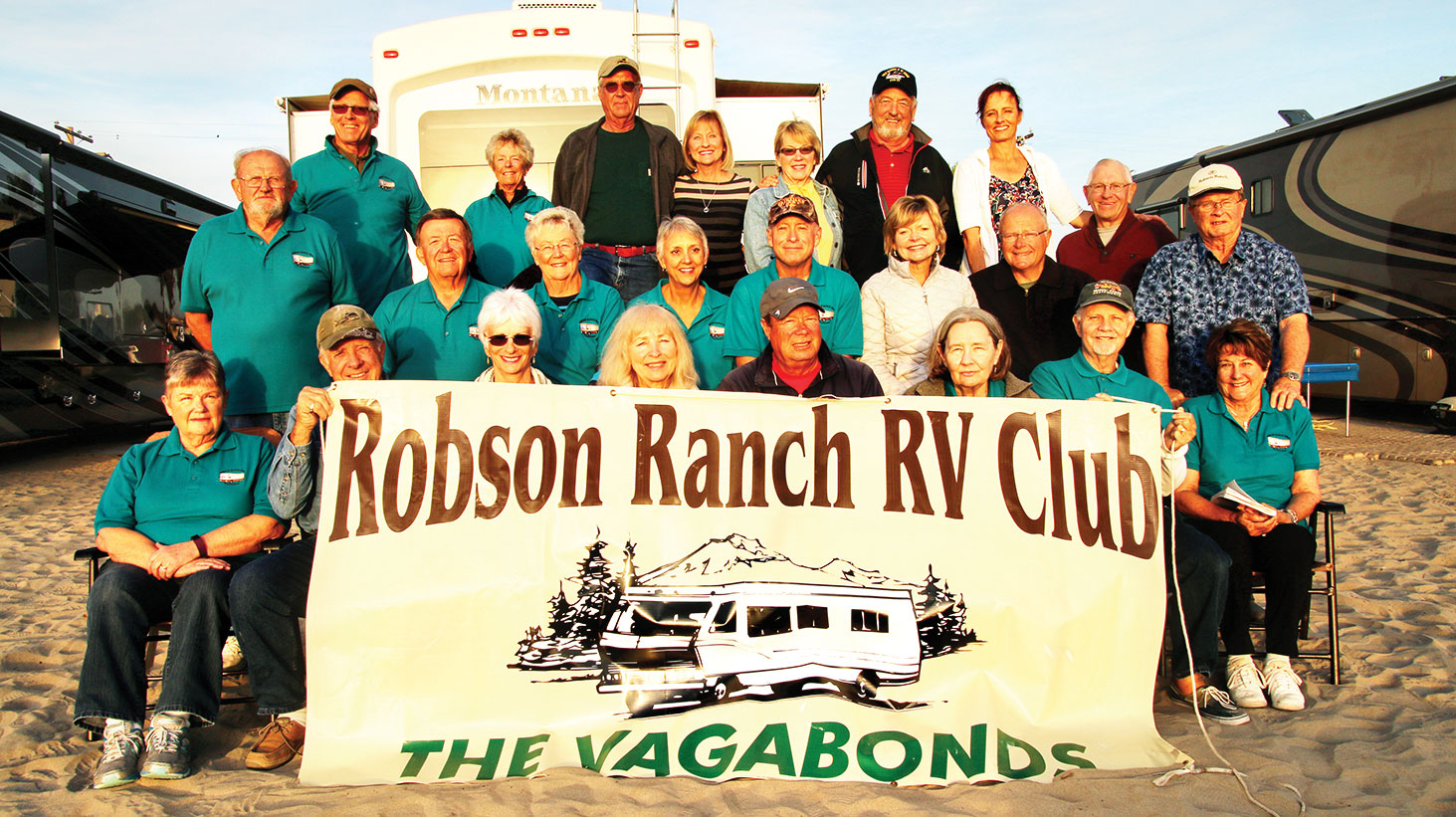 James W. Law, Vagabonds RV Club Activities Director
The latest Robson Ranch Vagabonds RV Rally was held north of Oceanside, California during the first week of February. Twelve rigs were sponsored onto the Camp Pendleton Marine Corps Base. Club members parked near the ocean and enjoyed the sights and sounds of the surf for several days. They took a trip to the Nixon Presidential Library and enjoyed an excellent docent tour. They also rode the Coaster Train to San Diego's Old Town and received a private tour of the Mormon Brigade Museum. This presentation of one of the longest military marches in history was followed by lunch in Old Town. The last full day on the ocean included a whale watching cruise complete with hundreds of dolphins and a couple of southbound whales. During the week, other attendees played golf, toured Coronado, and took the San Diego Harbor Cruise. Of course, the margarita machine was cranked up during a few happy hours, and the bountiful potluck dinners squashed a few New Year's resolutions.
During en route stopovers in Yuma, planned restaurant group meals, and discussions around evening fire rings, the 24 members were able to make new friends and trade stories of life on the road. This was the first rally for several club members, and the first time many of them had ever stayed on a military base. The Marines kept the campers entertained with amphibious vehicles and tanks passing by, small groups running on the beach, and platoons marching to training events. The rally was blessed with warm weather and calm winds. Add to that a full "Blue Moon" and a moon eclipse at sunrise.
Four couples continued the San Diego adventure during two nights of camping in eastern San Diego, a tour of the USS Midway, and lunch on the bay at the Coronado Landing. They had an abundance of food left over from the potlucks and sampled the famous fare from Phil's Bar B Q, in Santee, CA.
The sojourn to the West Coast was led by Wagon Masters Jim and Clare Law, and hard-working Assistant Wagon Masters Lee and Renee Kleinjan. The evening fires were compliments of Terry and Christine Clark. Additional happy campers were John and Alice Corbett, Ken and Patricia Hansen, Gary and Molly Chilinski, Stan and Esther Strickland, Walt and Celeste Krahl, Marv and Pam Kotek, David and Jill Riker, and Danny and Gail Lammers.