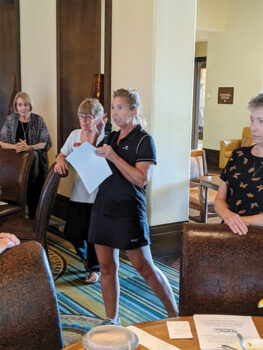 The Robson Ranch Ladies Social Club held their luncheon on Monday, Sept. 13. Our first guest speaker was Lois Moncel, Robson Ranch Sports Club director, who provided an update about exciting new fitness classes being offered this fall. One of the courses she highlighted was called Brains and Balance, which is training that helps people reduce fall risks and improve their cognition. Lois stressed the importance of doing exercises and activities that increase brain function, as well as participating in regular physical exercise. To illustrate this, she had everyone participate in an exercise that she uses in her classes to increase memory.
The second guest speaker was Shawn Danielson, the new part-time physical therapist at Robson Ranch. He introduced himself and talked about the physical therapy services he is able to provide to those needing assistance. He currently provides home health care to the surrounding areas and is offering his services here at Robson Ranch on a part-time basis.
The Robson Ranch Ladies Social Club luncheons are held on the second Monday of the month at 11:15 a.m. in the Robson Ranch Grill dining room. Everyone is welcome to attend!