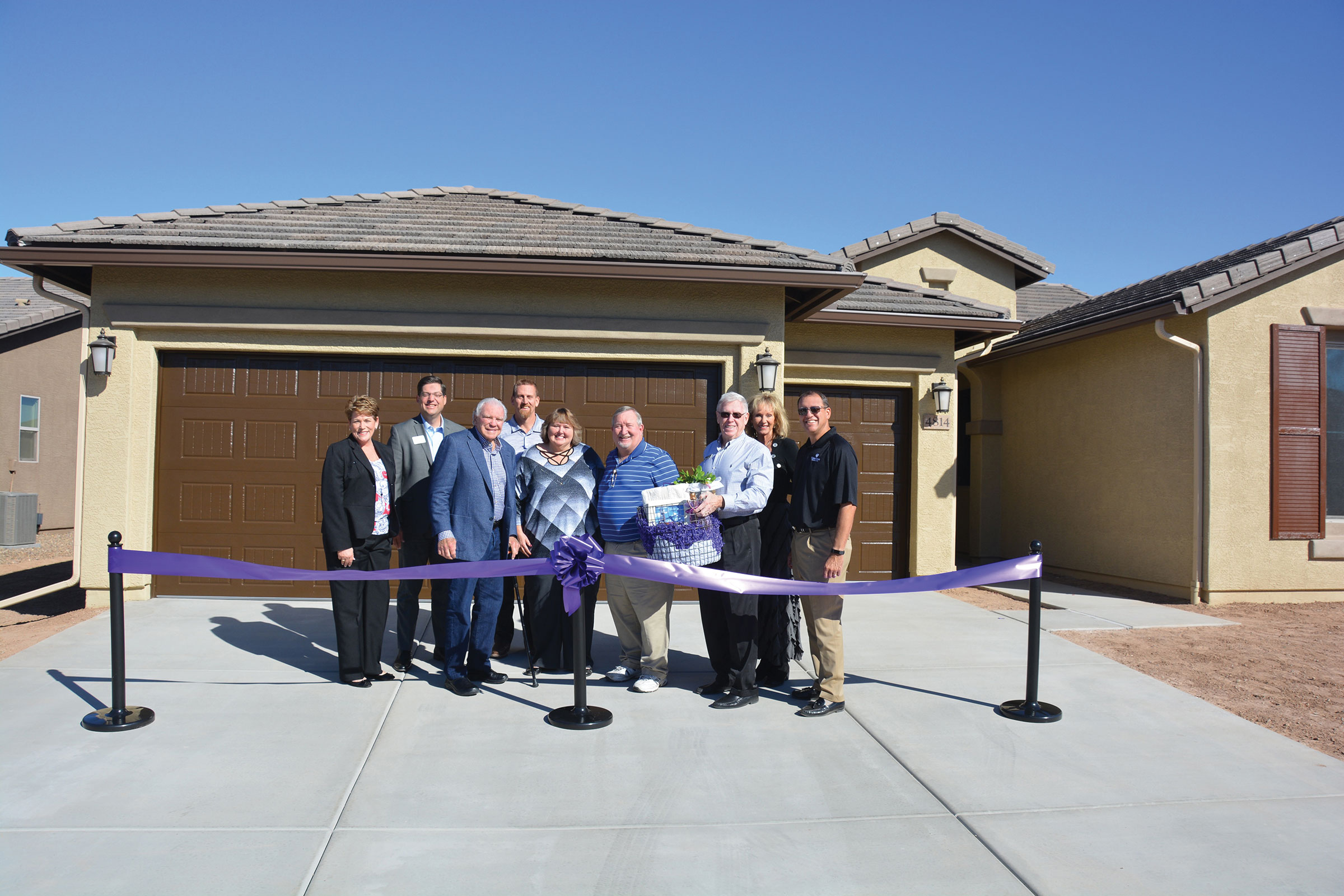 Sherry Jackson, RCI Corporate Communications
Robson Ranch Arizona is celebrating a milestone with the 1,000th home closing by new homeowners Mark and Brenda Hovis.
The Hovises closed on their new home on Loma Verde Avenue on December 9, 2017. Chairman of Robson Communities, Inc., Edward J. Robson, and other Robson team members were on hand to welcome the couple and help celebrate the milestone event.
"We are honored Mark and Brenda Hovis chose Robson Ranch as their new home," said Mr. Robson. "We wish them well in this next chapter of their life. Robson Ranch Arizona continues to grow, attracting home buyers with luxurious resort-style amenities and numerous social opportunities."
Mark and Brenda come to Arizona from Littleton, Colorado where they had lived for the past 30 years. Mark, recently retired, was previously a computer programmer for 20 years and a math teacher for 22 years. Brenda is also retired as a daycare director and more than 18 years in the banking/credit union industry.
The couple had visited the Phoenix area several times during spring training season and liked the warmer climate. Mark had also previously lived in Tucson and enjoyed the warmer weather. They both have adult children, and grandchildren ranging from ages 3 to 10, in the Denver area and plan to visit them often.
Mark says they were looking for a single-story ranch home and had visited several active adult communities, including ones in Phoenix and Tucson. "We looked in Colorado, but we really wanted to get into a warmer climate. I was tired of shoveling snow." The cost of living in the Denver area had become very expensive, he added. They looked for four years before selecting the Hermosa design at Robson Ranch Arizona for its open floor plan, master bath, great room design and arrangement of the kitchen island. They upgraded their home with an added den and a bay window in the master bedroom.
The Hovises chose Robson Ranch Arizona because they liked the small town feel of the Eloy and Casa Grande area and the quality of the Robson brand. Once settled into their new home, the couple is looking forward to playing golf, riding bicycles and getting involved in the community. They also like to play cards. "We've already made friends here," said Mark. "Everyone has been very warm and welcoming."