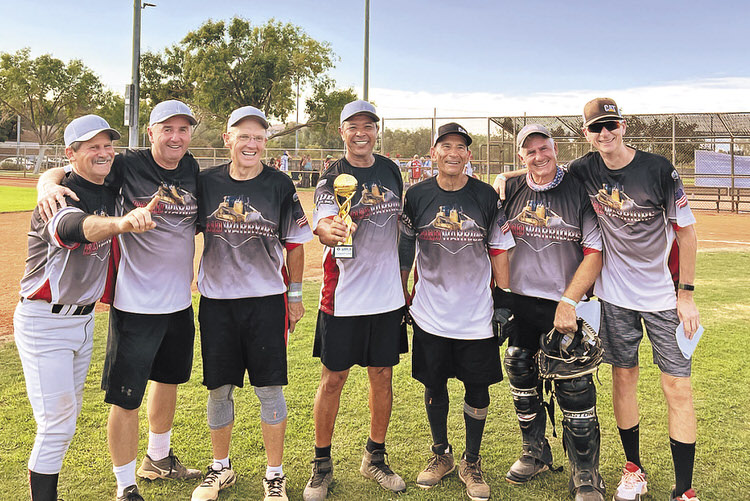 Robson Ranch Softball Club Board
Hey, Robson Ranchers, did you know you are living amongst World Champions? That's right! Eight members from the Robson Ranch Softball Club played in the Senior Softball World Championships held in Las Vegas during September and won it all! Competing in the 60's AA Division, the Road Warriors took home the coveted title and trophy by outplaying the Spin Tees from Washington, 26-17 in the final game.
The road to the championship was not an easy one as the Road Warriors lost their first two seeding games by a total of four runs. Being placed in the No. 8 seed, they had to beat the No. 9 seed from El Paso; the No. 1 seed from Oklahoma City; the No. 4 seed from Colorado; and the No. 7 seed from Washington to reach the finals. In the championship game, they saw the same Washington team and ended up losing their first game 7-10, which set up a winner-take-all final game in which the Road Warriors prevailed.
Head coach Tim Rud told the team how proud he was of them, especially considering just two-and-a-half years ago when the team was created, they lost all games in their first and second tournaments. He also stated it was a total team effort with each and every player contributing exactly what the team needed. Also, no victory is complete without its loyal, cheering, extremely supportive fanbase, which included wives, friends, and residents of our amazing community.
As a result of their victory, the Road Warriors have been invited to play in the Tournament of Champions held in Florida in January 2024.
The Robson Ranch players are (in alphabetical order): Ron Carpenter, Clark Fletcher, Fred Goossens, Will Habing, Jim Innocenti, Patrick Kolhs, Tim Rud, and Bill Sturgeon. In addition, Clark, Fred, Will, and Jim were selected to the All-Tournament Team. Congratulations, boys!