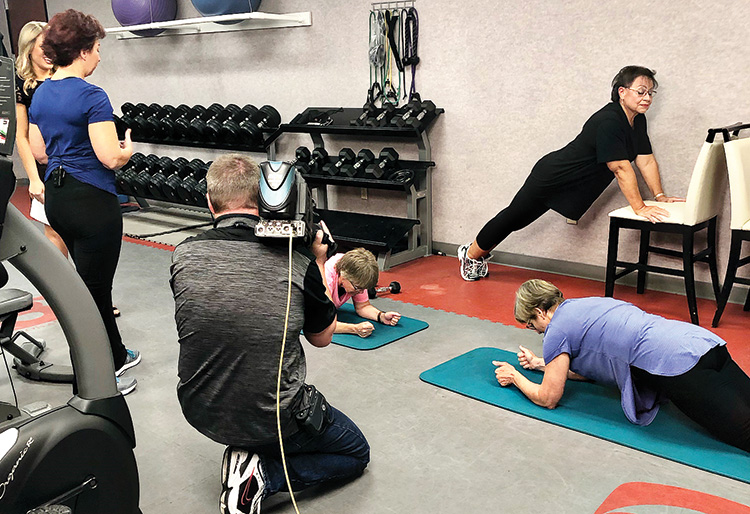 Lois Moncel
In August, some of our local residents helped promote Robson Ranch and demonstrated some exercises to maintain muscle mass as we age. The homeowners who participated were Jillian Moon, Pat Potter, Colleen McGee, Lois Moncel (director of fitness and wellness), and Izzy Ocheltree. Channel ABC15 and channel 3 aired the segments on Sunday, Aug. 4. A big thank you to these homeowners who woke up at 4:00 a.m. to drive to Phoenix.
The TV segments focused on maintaining muscle mass while aging. Have you ever really thought about how losing muscle mass affects your body? I know that it isn't something that we normally think about, but consider the consequences of "losing muscle mass."
The website senioradvisor.com states that "all of the things that become more difficult in age–doing chores around the house, walking, getting dressed, getting in and out of the bath–they're all going to be that much more difficult to do the less muscle mass you have. Loss of muscle mass also contributes to a greater risk of illnesses such as diabetes and osteoporosis. It's not just about having a harder time lifting heavy objects; losing muscle can influence many aspects of your day-to-day life and health. But you're not powerless to do anything about it."
If you haven't already visited the gym or found a way to add weight training to your everyday routine, now is the time! 45% of seniors in the U.S. lose muscle mass as they age. We begin losing it in our mid-40s. But, as you can imagine, losing muscle mass (sarcopenia) is much more extreme the more inactive one becomes.
There are so many options to achieve your fitness goals at the sports club. If you have questions regarding the programs at the sports club, contact Lois Moncel, director of fitness and wellness at [email protected]