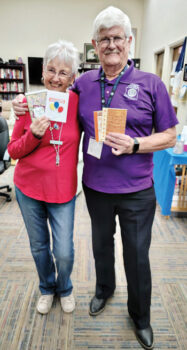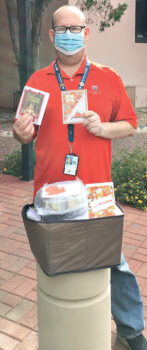 Jaine Toth
The Robson Ranch Paper Crafting Club closed out their charity projects for 2021 with card donations to two veterans' organizations.
Two hundred and sixty fall and Thanksgiving cards were delivered by Pat Serveiss on Nov. 9 to the Arizona Veterans Hospital in Tucson. VA volunteer Jason Hastings accepted the cards and said he would happily distribute them to the veterans in the hospital and the rehabilitation center. He noted how much the vets enjoy getting these special cards.
Debra Fosnight stopped by Eagle's Landing, part of Honoring/Hiring/Helping Our Heroes of Pinal County (HOHP), in Casa Grande on Nov. 18. She replenished their card basket with a total of 60 birthday, thank you, and thinking of you cards, plus 20 Thanksgiving cards. HOHP board member Jim Sylvester, and Jean, the receptionist, were present to accept them. Both expressed excitement at having the Thanksgiving cards to give out during their potluck the next week.
During the past year we have also donated cards to food bank volunteers thanking them for their service during the current pandemic, to the nursing staff at Casa Grande Medical Center for them to present to patients, and to our Eloy and Arizona City first responders.
In interviewing various members of the club for the member profiles submitted to Robson Ranch Views, the ladies invariably mention how much they enjoy and appreciate our charitable outreach through making handmade greeting cards for such deserving members of the community.
In delivering this report to the membership, Pat Serveiss, club president, noted, "I just wanted to put my two cents in and say how very proud I am to be a part of this great club."