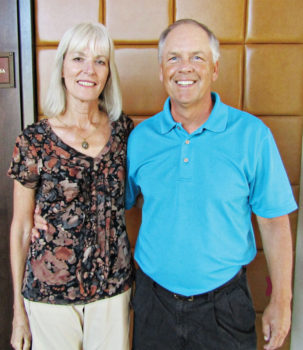 Mary Beth Smith, resident
A new inter-denominational church is starting here at Robson Ranch! The Laredo Room in the Ranch House will host its first church service on Sunday, January 6, 2019, at 8:00 a.m.
At the time of this publication, the church is still in a formation stage and we are taking input from our neighbors here in the Robson Community. Meetings will continue to occur in November and December to learn of your spiritual and worship needs here at Robson Ranch. Those dates are November 17, December 1 and December 15. All events will occur at 4:00 p.m. in the Laredo Room. Let's make it an uplifting place!
One thing is certain, Pastor Ron Hunt will be our pastor and his kind and gifted wife, Lisa Hunt, will be the church's Music Director. You might know Ron as silly on the softball fields and pickleball courts, but he also has a more serious, sensitive, spiritual side off the courts! He demonstrates a great love of God and people.
In addition to being a pastor, Ron is also a licensed psychologist and a spiritual director.
Lisa Hunt is a popular soloist and pianist for local congregations, weddings and other events. Lisa is also the Director of the Robson Ranch Singers, our community chorus. Aside from her musical skills, she also loves to play pickleball and is a member of the Pickleball Club.
We welcome you to join us!