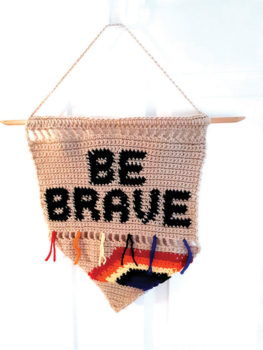 Diana Oleson
June already! Wow!
Hope everyone has managed to stay healthy during these trying times.
Thought I would begin this article with a quote from Maya Angelou:
"This is a
Wonderful day
I've never seen
This day before."
I've challenged myself to learn something new and try something I have never done before. My first project was a crochet tapestry banner. I made a change from short stripes to a rainbow at the bottom. The "Be Brave" banner was a lot of fun to make, and it allowed me to be more creative.
My next challenge project is going to be to knit a pair of socks. This one is going to take some time and probably a lot of undos and redos!
I leave you with this thought by Maya Angelou, "Try to be a rainbow in someone's cloud."
Needle Crafters meet on Thursdays from 9 a.m. to noon in the Creative Arts Center.