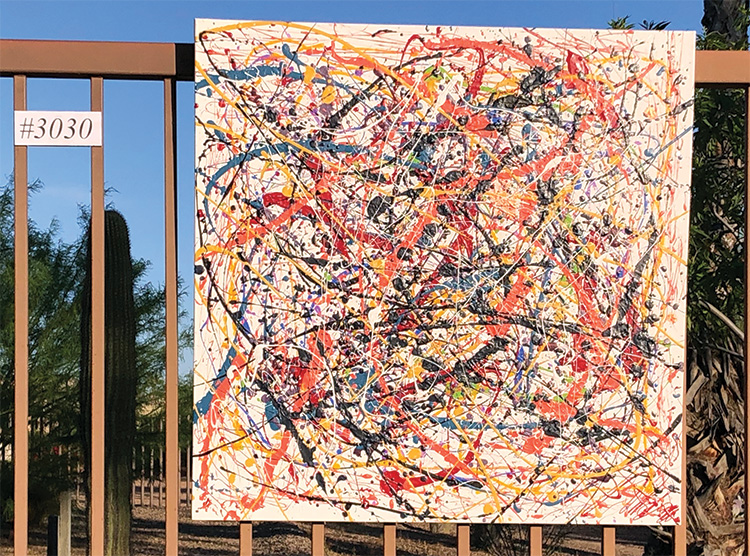 Nancy Friedman
The Fine Arts Guild of Robson Ranch challenged their 54 members to paint COVID-19 Memorial paintings for charity in a Jackson Pollock style, while social distancing.
Nancy Friedman started a daily email sketchbook challenge to members on March 15, when all indoor venues were closed in Robson Ranch which included the Fine Arts Guild's painting studio.
Originally, it was thought the closure of facilities would last only 15 days, but, as time wore on, other board members who included Nils Johnson and Melanie Douglas, took up the baton to help with the daily challenges. On day 37, Nils suggested a YouTube video entitled "Paint Like Pollock" put out by Jerry's Artarama. Teasing Nils, Nancy said she would come by his driveway to throw some paint on his canvas. This tease turned into a challenge for all members of the Fine Arts Guild still in residence at Robson, to indeed come by Nils' garage to throw some paint for three days. Each of the participants was assigned a time, requested to wear a face covering, and to comply with social distancing. Nancy and Nils supplied five canvases as the challenge grew to 14 participants. On April 28 and 29, from 6 a.m. to 6 p.m., the Fine Arts Guild opened an outdoor gallery along Harris Hawk Drive. At the suggestion of President Bob Smith, the guild then started a silent auction via email for the five COVID-19 Memorial paintings, and donated the money to the Santa Cruz Valley Food Pantry in Eloy. The final collection with auction money and donations was $690. Participants in the fun painting included Linda Luttrell, Martha Spillane, Wanda Harper, Karen Cutrell, Mary Beth Fisher, Susan Schneider, Janet Buckingham, Jeana and Marc Capel-Jones, Bob Smith, Debbie Ellis, Carolyn Gibson, Nancy Friedman, and Nils Johnson.
The COVID-19 Memorial paintings went to Carol and Mike Simmons, Ronda McGree, Daniel Underwood, Mary Beth Fisher, and Nils Johnson, with donations coming from Jillian Moon and Deborah Dorman.
The Fine Arts Guild would like to thank all who joined in the fun of painting, and those who entered the auction. Hopefully we will be able to enjoy our studio soon while abiding by all the COVID-19 guidelines.
Thank you to all who joined in the fun of painting.