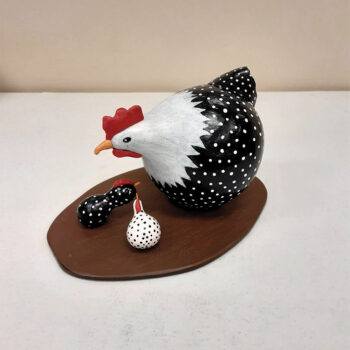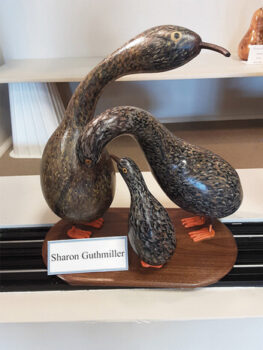 The Gourd Club is fortunate to have members from all over the United States. This makes for many diverse conversations. It was recently that Sharon Guthmiller told her story. We sat quietly listening to Sharon recall her childhood living on the prairie in northern South Dakota. Her grandfather built the homestead in 1898. Since trees and lumber were scarce, he used what materials were available to him, sod and dirt. Large blocks of mud and straw were made and left to dry in the sun. Once dried, they were stacked together. This made the walls.
There was no bathroom or running water, instead they had an outhouse and a windmill to pump water. This home is where she lived for the first 18 years of her life.
The home, notice I said home, and not house, was only four rooms that housed her parents, five children, and a foster child. Many times, her parents opened their doors to others less fortunate. Sharon attended a one-room schoolhouse two miles away from the farm. On nice days, she would walk, but on those windy, cold, and snowy days, her father would hitch the team of horses to a wagon or sled and drive the children.
Growing up on a farm is not easy by any standards. She and her twin brother and sisters all had chores. Grain needed to be farmed and cattle needed to be attended to as well. She milked the cows, fed the chickens, and watched over the geese as they weeded the garden patches. It was hard work. With an endearing smile, she said her parents always made sure the children also had fun days playing with friends and cousins who lived in their small community. Church was important to her family, and many social activities centered around it.
High school was 35 miles from the farm. Sharon and her brother had room and board during the week with strangers and returned home on the weekends.
She met and married her husband, Jerry, in 1964 and moved to his dairy and grain farm near Roscoe, S.D., where they raised their three daughters. They were no strangers to hard work. But after 23 years of weathering droughts, they threw in the towel, sold the farm, and moved to Anchorage, Alaska, where they lived for 22 years.
These days, Sharon is very content enjoying the sunshine, relaxing, and most of all, working on her gourd projects. Many of her creations are families of geese. Each bird is free-hand painted. On occasion, Jerry, who works in the wood shop, will make a stand or maybe a beak for one of her geese.
In conclusion, "You can take Sharon out of the farm, but you can't take the farm out of Sharon."