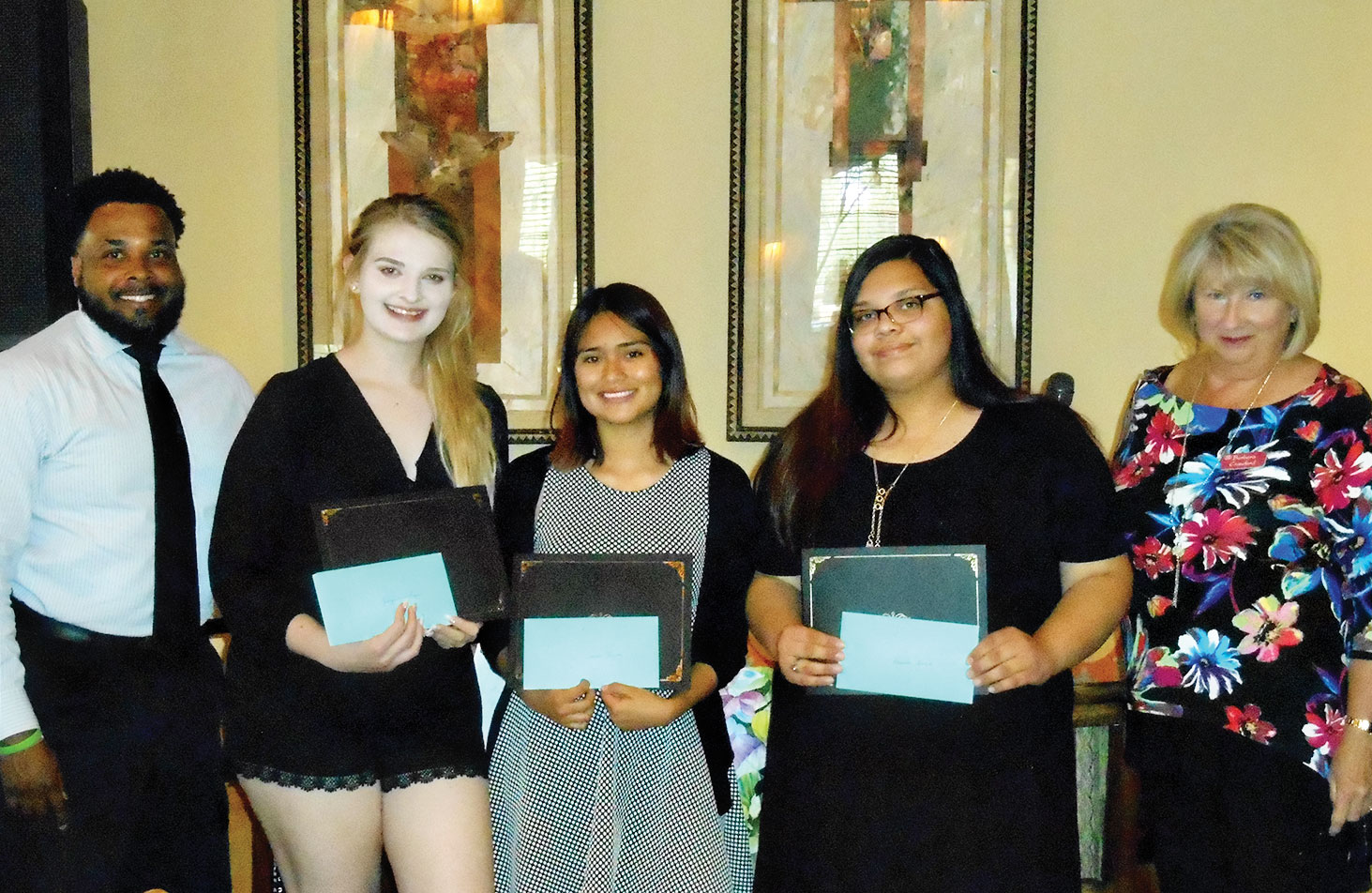 Barb Crawford
The May meeting of the Ladies Social Club is always special. Not because of the food but because of the special people we get to meet. This is the meeting at which we award selected seniors from Santa Cruz Valley Union High School with college book scholarships. We have been raising money for this good cause every year since 2010. Each year we learn the interesting stories of our deserving and hard-working recipients. This year was no exception.
The three $750 scholarships this year were awarded to Brianna Garcia, Vanessa Govea and Jacquelynne Regan.
Brianna wants to pursue a career in Corrections and will attend Central Arizona College in the fall. Brianna has been attending classes not only at Santa Cruz Valley Union High School but also advanced classes at CAVIT, which stands for Central Arizona Valley Institute of Technology. During the CAVIT program, Brianna had to attend a CAVIT class for two hours every school day. She finished with a Security Guard Certificate and now holds the rank of Sargent. She also works 30 hours a week at the Subway restaurant at the truck stop in Eloy. But even that is not all. Brianna has earned a Perfect Attendance Award, as well being on the Honor Roll.
Vanessa will attend Grand Canyon University to earn a B.S. in Justice Studies. She hopes to initially find work as a paralegal. But her long term goal is more education and a career in Forensics. Vanessa participated in several community programs, including JAG, which stands for Jobs for Arizona Graduates and teaches students how to conduct themselves professionally in the work force. Another program is CHAT, which stands for Choose Health Action Team, and teaches students healthy living lessons which the students, in turn, teach to other people in the community at community events. Vanessa, too, was on the Honor Roll.
Jacquelynne Regan will pursue a B.S. in Nursing at Arizona State University. She found her calling to be a nurse when a family member died of a rare form of cancer. She would like to specialize in trauma or cardiac nursing and perhaps become a nurse practitioner in time. Jacquelynne also attended classes in the CAVIT program during her last two years of high school, earning a Nursing Assistant Certificate. She also enrolled in the First Step Program at Central Arizona College, where she earned her Phlebotomist Certificate. Jacquelynne, too, was on the Honor Roll.
The Ladies Social Club holds luncheons at the Grill on the second Monday of each month from September through May. Meetings include an activity/demonstration or speaker of local interest. Past speakers have included Jimmie Kerr chronicling the history of Casa Grande and Robson Ranch, as well as Larry Rains, the Casa Grande City Manager. The club also enjoyed a floral demonstration from Janet's Flower Shop in Eloy and an overview from Robson Fitness Director Lois Moncel. Meetings are open to all Robson residents. The next luncheon will be September 10.