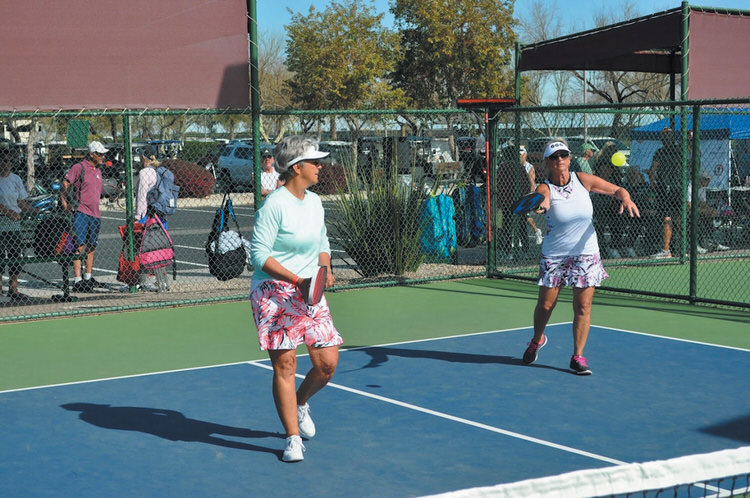 Pat Sand
The 9th Annual Robson Ranch Members-Only Pickleball Tournament was to be held Feb. 20 through 22, 2023, but threatening, inclement winter weather resulted in the tournament being held one day only on Feb. 20, for women's and men's tournaments. Feb. 21 was cold and rainy. By 9 a.m. the tournament committee canceled the rest of the tournament.
The end of tournament party was held Tuesday in the Hermosa Ballroom. Robson resident Jerry Duruz provided music, and players enjoyed pizza and beverages.
More than 200 players registered for the tournament, with 19 withdrawing. As a result of the weather cancellation, the 25 players who signed up to play mixed doubles weren't able to play.
The Pickleball Club has more than 600 members and was well represented both on and off the court by players and volunteers. Playing a tournament with friends and neighbors makes it especially popular.
A huge thanks to the volunteers who helped out, as the tournament wouldn't happen without them.
A big thanks goes to Giddon's Auto who provided pens, pencils, and bottle openers as well as wine and beer for the after-party. Donors supporting and providing raffle prizes for the tournament included: Robson Ranch Golf Club, L'Grande Café, Culvers, W&Z Asian Bistro, IHOP, Chili's, Safeway, Agave Dental, Anaya's, Fry's on Pinal, Jim and Marie Uhrich, Robson Ranch Fitness, Clean Freak Car Wash, Sa Morz Bakery, Creative Café, BeDillons Restaurant, Cook E Jar Bakery and Café, Stephanie Aldereti Hair Salon, Firehouse Subs, Boston's Pizza, Cotton Bowl Lanes, Barro's Pizza, Robson Ranch Grill, Angry Crab, Gigi Guerra, Tumbleweed Inn Saloon, Round Trip Bike Shop, Bent Prop Saloon, Janett Kline, and Giddens Tire Pros.
Thanks to the players and volunteers, and congratulations to the teams that medaled:
Men's 2.5 (all ages)
Gold: Dan Schraufnagel and Rod Schroeder
Silver: Bill Attaway and Wayne Ricalton
Bronze: Phil Mitchell and Mike Adelson
Men's 3.0 (65+)
Gold: Jim Vahrenwald and Dennis Winders
Silver: Steve Henry and Clifford Marson
Bronze: Marty Daniels and Robin Snyder
Men's 3.0 (ages 50-64)
Gold: Joseph Schreiber and Scott Reiser
Silver: Scott Gustafson and Tim Jones
Bronze: Rupert Tarleton and Kevin Waslaskig
Men's 3.5 (all ages)
Gold: Glenn Olson and Chris Roberts
Silver: Bruce Morris and Troy Morris
Bronze: Curt Lowry and Chuck Pfeiff
Men's 4.0 (all ages)
Gold: Bill LeGere and Robert Orr
Silver: Anthony Castelluccio and Charles Hunt
Bronze: Allan Carpentier and Reg Lakness
Men's 4.5+ (all ages)
Gold: Mark Shaughnessy and David Siddall
Silver: Stan Smallwood and Ron Hunt
Bronze: Kevin Milosevich and David Smith
Women's 2.5 (all ages)
Gold: Liza Yarnell and Brenda Tipton
Silver: Terri Terlouw and Denise Treat
Bronze: Rebecca McKinney and Jackie Maycumber
Women's 3.0 (all ages)
Gold: Tammy Welcher and Janet Schreiber
Silver: Jo-Ann Walsh and Debra Kwiat
Bronze: Michele Reiser and Cindy Dix
Women's 3.5 (all ages)
Gold: Teresa Milosevich and Lisa Milosevich
Silver: Michele Chui and Keeley Taylor
Bronze: Jennifer Roberts and Dawn Evans
Women's 4.0 (all ages)
Gold: Stephanie Juillerat and Lori Aitken
Silver: Angie Weidner and Tammy Taylor
Bronze: Janett Kline and Carolyn Sanders