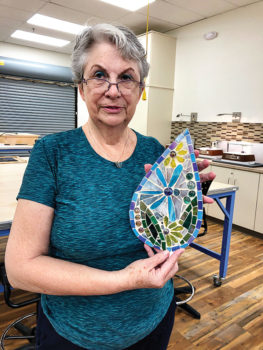 The Stained Glass Club is committing to a year of Harmony Through Stained Glass and all of you are welcome to join in on the fun!
Interested members start with a two-part beginner orientation class, which teaches you the basic techniques used to create your beginner stained glass piece. You are then invited to participate in our new four-part Comprehensive Technique Program (at no extra charge). This comprehensive program is taught by club member Cynthia Melito. Working hands-on with each participant, Cynthia shares her tips and techniques from choosing a pattern, and continuing through to the completion of your stained glass creation.
You can also take advantage of other member classes such as: Getting to Know the Basics with Diane Williams and Beth Sulek-LaHousse, Mosaic with Sally Fullington, Yard Art with Jean DeChristopher, and Leading with Sue Waibel. All of these classes are taught by our current members who are excited to share their skills and knowledge.
Class size is limited, so stop by the studio to learn more about all of our programs and sign up to begin your journey. The studio is open Tuesdays 9 a.m. to 3 p.m., Thursdays noon to 4 p.m., and Fridays 9 a.m. to noon.
For more information contact Beth Sulek-LaHousse, [email protected] or Cynthia Melito, [email protected].