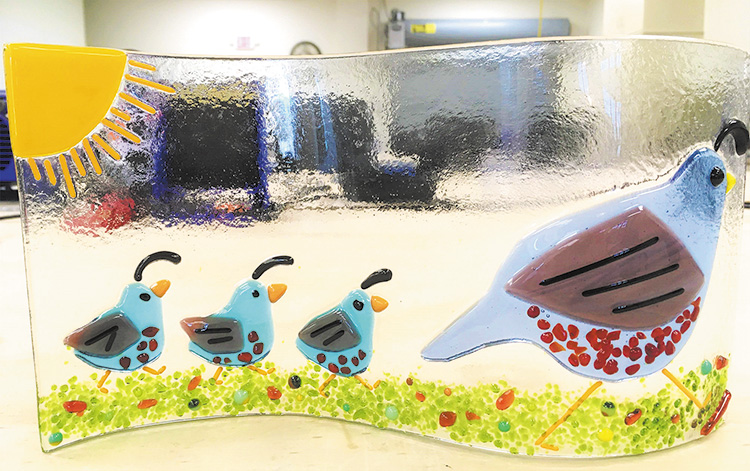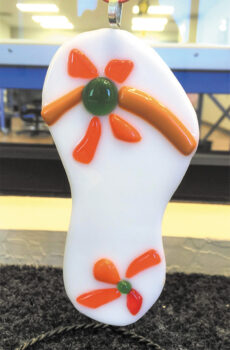 Doris Betuel
The Fused Glass Club started a little over a year ago and has never looked back! We now share a great studio with both the Stained Glass and Beading Clubs. Our many active members enjoy the fun and challenge of melting glass into many creative and beautiful pieces. We recently elected our officers for 2020, and they regularly roam the studio helping new members on projects. You can often find President Mary Beth Smith in the studio along with VPs Faythe Daniel and Doris Betuel. Pat Picune is our secretary and keeps our records straight, along with multi-talented Mary Nunn as our treasurer. All have been bitten by the fused glass bug! If you have never fused glass, you will be astounded by the many different projects that can be made and how quickly you can get them completed.
We are located in Studio 5 of the Creative Arts Center and open on Mondays and Wednesdays 9 a.m. to 3 p.m., Sundays 10 a.m. to 2 p.m., and most Fridays and/or Saturdays from 9 a.m. to noon.
Our goal in 2020 is to conduct beginner sessions every month for those interested in working with fused glass. However, you are welcomed to just come in and check us out when we are open to see how and what all the fused glass fuss is all about.
For further information or to sign up for a fused glass beginners' session, please contact Doris Betuel at [email protected]