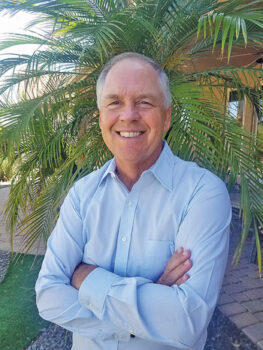 Patricia Sand
Friendship Center meets in the Laredo Room. Ron Hunt provides pastoral services for the church and congregation. Ron kindly shared a little about himself.
Q: Where are you from originally?
Faribault, Minn.
Q: Why did you move to Robson Ranch?
I liked the "active" part of the active adult community.
Q: Why do you feel called to serve Friendship Center?
There were a lot of us who couldn't find a church that fit. So, it became clearer and clearer to us that God wanted us to start a church here.
Q: Where did you study and why?
I attended a Lutheran college, Gustavus Adolphus College. Then I went to California for four years of seminary to become ordained as a pastor.
I was always very interdenominational. I attended seminary in California, because I could study with many denominations. I studied at Lutheran, Presbyterian, Methodist, United Church of Christ, and three Roman Catholic seminaries (Jesuit, Franciscan, Dominican).
Q: How long have you been a pastor?
34 years
Q: What made you decide to become a pastor?
From a young age, I had a strange interest in being a pastor. I say strange, because being a pastor didn't make sense to me, since my family wasn't particularly religious. We also had no clergy on either side of very large families. However, Sunday school every Sunday was required, and then confirmation twice a week for three years. All seven of us children had to do this.
After finishing confirmation in 9th grade, I began attending worship alone about once a month, since no one else in my family would go. There was an unexplainable draw, which was very different from my brothers and sisters.
At the age of 20, I had a series of spiritual experiences in Christ. I sensed through these I was meant to become a pastor and a psychologist. When I changed my college major and began my Biblical and spirituality studies, it felt right. I retired my California and Minnesota psychological licenses when I accepted the call to start Friendship Center.
Q: What is the most rewarding thing about your job?
What's most rewarding is, as Joseph Campbell taught, I get to "follow my bliss" in my job.
Q: What is the hardest thing you've had to do as a pastor?
Funerals. Bringing God's love, comfort, and grace to grieving people is very heavy, but also spiritually profound work.
Q: How do you decide what topic to preach on each Sunday?
I listen to the Spirit, which sounds like a cliché. Yet, it really is the best description I know. Then, I focus on two of my greatest loves all week: the Christian spiritual life, and Biblical scholarship. I then prayerfully attempt to follow the lead of the Spirit.
Q: How would you like to see Friendship Center grow/change over the next five years?
To ever grow in doing God's will.
All are welcome at Friendship Center which worships Sundays at 9 a.m.