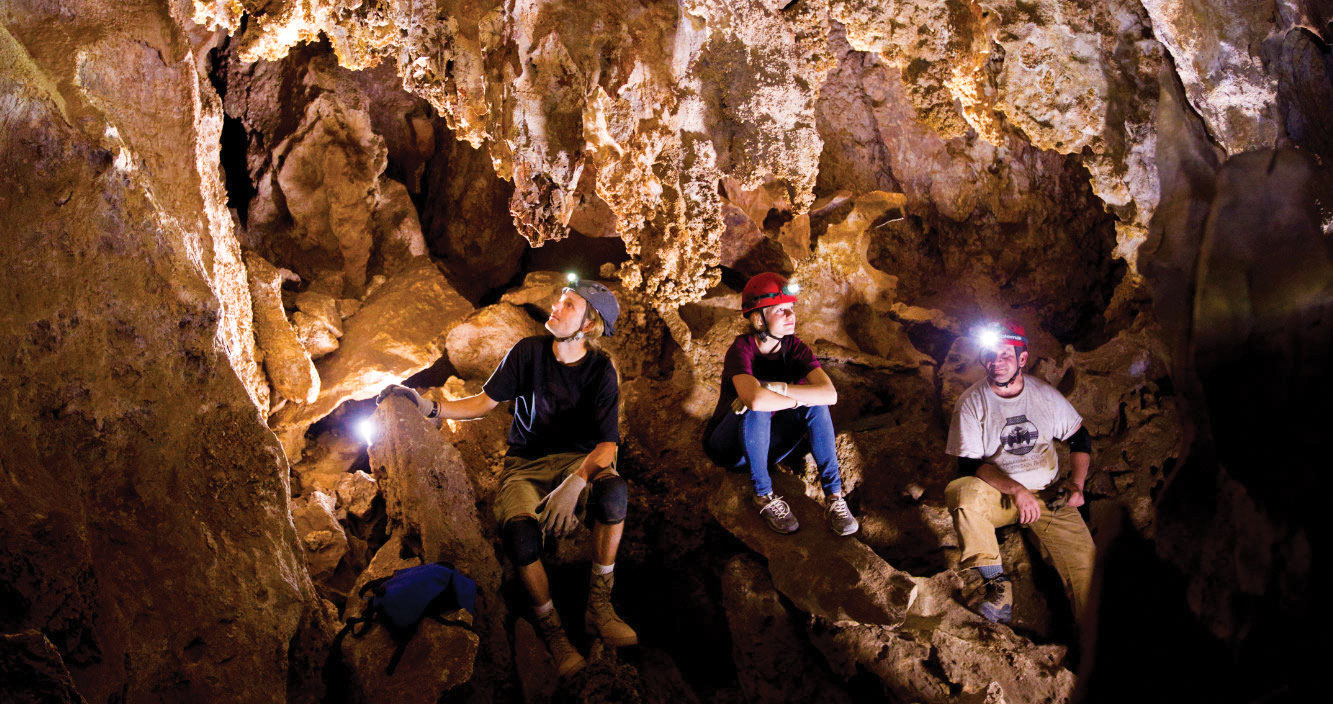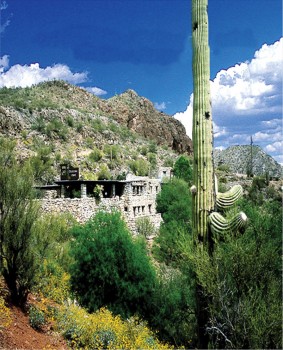 Catherine Strickland, Pima County Tourist Development
Colossal Cave Mountain Park offers incredible history and entertainment for the entire family. The more than 320-plus million year-old cave with a comfortable temperature of 70 degrees year-round presents some of the most interesting historical and educational aspects of this area of the world. In 1992 Colossal Cave was given the prestigious recognition by being added to the National Register of Historic Places.
Artifacts tell us around 900 to 1450 A.D. the Hohokam Indians used Colossal Cave for shelter, storage and as a shrine. From 1450-1880 A.D. the Sobaipuri, Apache and the Papago (now Tohono O'odham) Indians used the cave as a place to live.
In the mid to late-1800s, the Mountain Springs Hotel served as a National Mail Stage Line stagecoach stop on what is today a part of La Posta Quemada Ranch. During this time the cave was a place where outlaws and bandits sought a hiding place from the law.
The highlight of any visit to Colossal Cave Mountain Park is a half-mile long tour of the Cave that takes about 45-50 minutes to complete. All tours include a well-trained guide who relates the Cave's history, legends and geology. The tour allows you to walk down and up about six and a half stories where you are able to see beautiful cave formations like stalactites, stalagmites, flowstone, boxwork and helictites.
Tours are given daily, year-round. They are not pre-scheduled with no wait longer than 30 minutes once you purchase your ticket. You need no special clothing in the cave, which is always 70 degrees and dry.
Some of the names of the largest stalactites include Bonecrusher, Fang, etc. The limestone cave was formed during the Mississippian Period, over 320 million years ago under a vast inland sea. About 30 million years ago, something truly remarkable occurred: hot, sulfuric brine was pushed up into fractures in the limestone and started creating passageways. Only 10% of the world's caves have been formed by such deep, hot processes. Later, water seeped through the rocks and deposited crystal on the ceilings and walls, creating the formations. Colossal Cave is the largest dry cave in the United States. Only about 5% of the world's caves are dry or dormant, meaning formations are no longer growing, but it is possible that the cave will become active again in the future. Colossal Cave is one of the very few where photos/video may be taken inside.
Guests are first greeted with Old Baldy, a stalagmite standing guard near the cave tour entrance and requires that you rub his head in order to make it out alive. Covered with stalactites (limestone hanging from the ceiling) and stalagmites (limestone coming up from the ground), the cave creates an ethereal feeling deep below the ground. Knowledgeable and witty tour guides lead you through a maze of tunnels and stairs, equipped with handrails. Along the way they explain the rooms, history and "Bandit Legend" of the cave and point out figures in the rock formations like Scary Witch Emma and Mr. Magoo. Bats are transients in this cave as well, so if you're lucky you may get to see some hanging around the top.
After your tour plan on browsing the gift shop with items ranging from jewelry to bookends. In addition to regular tours, reservations can be made to take special adventures such as Ladder, Candlelight and Wild Cave tours where you can do a more in-depth and rough experience.
A few minutes down the road is the 137-year-old La Posta Quemada Ranch. This is the site of an old stagecoach station and hosts the Ranch Headquarters. This home houses the museum, research library, another beautiful gift shop and open-air café serving Mexican food. Here you can sit in the natural habitat butterfly garden and watch butterflies or observe the tortoises.
There is also a riding stable where trail rides are available and the Analemmatic Sundial where you can be the shadow that tells the time. Special reservations can be made for cattle drives, cowboy cookouts and children's birthday parties.
Owned by Pima County, the more than 2,400 acres known as Colossal Cave Mountain Park comprises desert, mountain and riparian habitats in a transitional Sonoran-Chihuahuan biome. It is home to not only the historic cave but also part of the Arizona Trail and the La Posta Quemada Ranch. Intensive educational programs for adults and school groups are presented year-round.
Secluded campsites are located near the La Posta Quemada Wash and you can hike the trails spotting many animals such as a ringtail, coatimundi, javelina or striped skunk.
Colossal Cave Mountain Park offers a variety of activities for all areas of interest, whether you want to have a day-outing or rough it on a camping trip. No reservation is required for a guided cave tour. No food, drink or gum is allowed in the cave, bottled water is permitted. Reservations are suggested for trail rides.
Admission Prices: Park use fee: $5 per vehicle of up to six people; Cave admission: $13 for adults age 13 and up, $7.50 for children age 5-12, age 4 and under free. Museums, gardens, picnicking, camping, hiking and bird-watching are free.
Trail Rides: Trail Rides fees are $27 for the first hour, $20 per hour thereafter; they also offer Sunset Rides and Dinner Rides.
Hours of Operation: Open 365 days a year. March 16–September 15: 8:00 a.m.-5:00 p.m., September 16–March 15: 9:00 a.m.-5:00 p.m.
For more information on Colossal Cave Mountain Park and to make special reservations, call 520-647-7275 or visit their website www.colossalcave.com. For more information on all Southern Arizona attractions go to www.tucsonattractions.com. Colossal Cave Mountain Park is located at 6711 E. Colossal Cave Road, Vail, AZ 85641.