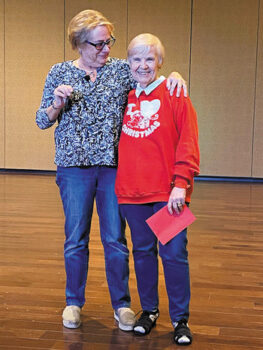 On Dec. 15, 2022, the Robson Ranch Line Dance Club held its Holiday Line Dance party in the Hermosa Room. About 70 people attended to dance some of their favorite line dances such as "Uptown Funk," "RR 2 Step," "Mustang Sally," "Lonely Drum," and "Down to One." It isn't easy getting all four dance level songs organized so that each group isn't sitting out too long, but CJ is always able to pull that off. And "How can she remember the steps to every dance?" is another challenge she is always able to overcome!
Mark your calendars for the Communitywide Line Dance Party! It is on Saturday, Feb. 11, from 5:30 to 8:30 p.m. in the Hermosa Ballroom. This dance party is open to the entire Robson Ranch community; the DJ will be playing all of your favorite dance music. Don't line dance? No problem! The line dancers will have space for you on the dance floor! This event is free to all current club members; it is $5 for all nonclub members. There will also be a cash bar and a drink station.
An Absolute Beginners class started in January, but if you missed the sign-up, you will be able to catch the next session. Watch for details in the Mid-Week Scoop emails. Those classes as well as the Beginner classes are held on Wednesdays and Fridays, and High Beginner and Improver/Intermediate classes are held on Tuesdays and Thursdays. It's only $20 a year to join the club! Check out our website at rrazlinedance.wixsite.com/club for more information.