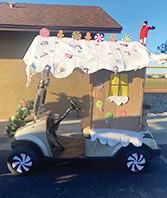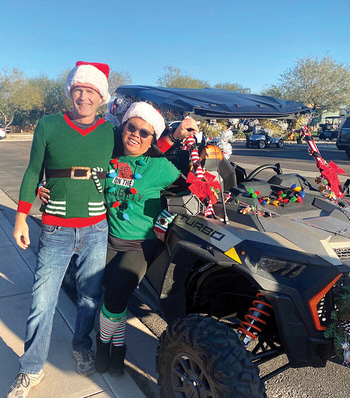 The annual Roving Rancher's Christmas golf cart parade was held on Saturday, Dec. 18. Residents met at the softball field parking lot and lined up their carts. Prior to the parade, the group was treated to Christmas carols by the Robson Ranch Singers led by Lisa Hunt. For the last carol, "Jingle Bells," the singers used creative license and changed the lyrics to "in a golf cart parade" instead of "in a one-horse open sleigh." It was cute and clever!
The parade kicked off at 4:30 p.m. The same route used for the Halloween parade was followed. The route travels down all of the major streets in Robson, giving residents the ability to find an easy place to sit and view the parade.
This year, there were more than 45 golf carts participating. The parade was led by Joe Murauskis and Pat Sand, followed by the Mayor of Eloy, Micah Powell, who rode with his wife and granddaughter in the parade. Mayor Powell said because he had so much fun in the Veterans Day golf cart parade, he wanted to participate in the Christmas golf cart parade. He enjoyed the parade as much as the residents.
The carts' decorations always improve year over year and exceed expectations. Between the lights and the festive decor, the golf carts were a sight to see! Residents in the carts threw Christmas candy to the residents and four-legged friends also lined the streets. People dressed festively for the cold and had blankets in their carts to ward off the chill.
The parade ended back at the softball field at 6 p.m.