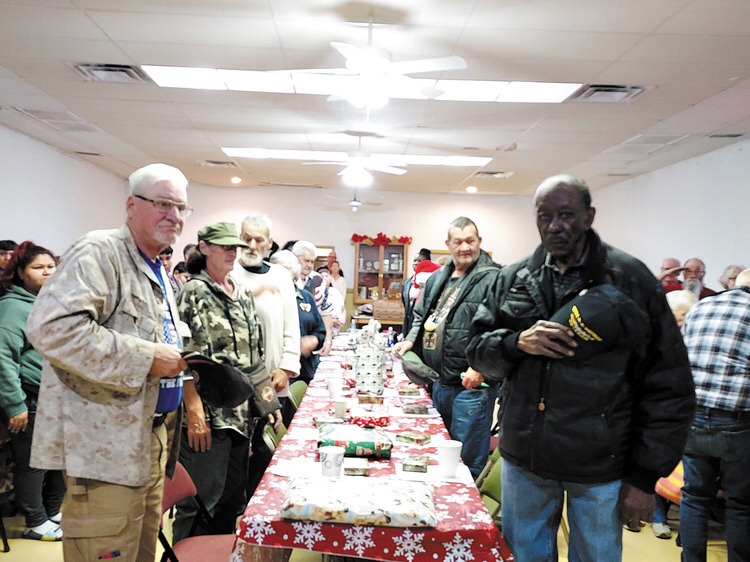 Esther M. Aar
On Dec. 19, 2022, the residents of Robson Ranch partnered with the congregation of Cowboy Church of Pinal County to sponsor a dinner for the Eloy Veterans Center. The outpouring of food, Christmas treats, socks, gifts, and cash donations was overwhelming. More than 100 guests were served a feast of roast turkey and baked ham with a variety of potatoes, vegetable dishes, and salads. The dessert table was filled with an array of mouthwatering pies and cakes.
The event opened with a presentation of the colors followed by the guests joining in singing God Bless America. Musicians from Cowboy Church led the guests in singing rousing choruses of several Christmas carols.
Each guest received a package of new socks, a hand-knit cap, and a bag of Christmas treats to take home. Additionally, Cowboy Church provided a Biblestick—a New Testament audio listening device—for each guest.
Cash donations totaled approximately $2,200. I made inquiries to determine the best use of the funds. Based on the feedback I received, money was distributed as follows:
* $500 to provide seeds, plants, and fertilizer for a community vegetable garden for the Eloy Vet Center.
* $700 for gas gift cards to support the mobile ministry of Pastor Fred Kammann of Mt. Zion Church. His ministry serves the homeless desert community.
* $100 to Wreaths Across America for the 2023 wreath laying ceremony at the Eloy Cemetery.
* $900 for gas/grocery gift cards for veterans' emergency relief.
None of this would have been possible without the contributions from the Robson Ranch community. A special thank you goes to Cowboy Church of Pinal County, Support Our Troops–AZ and the Vagabonds RV Club. I wish I could thank each of you individually. Your generosity was so appreciated!