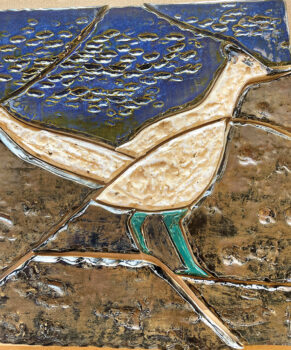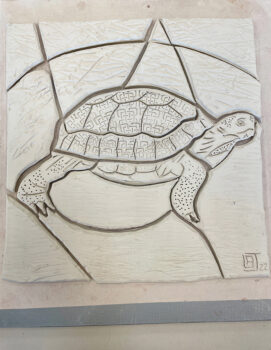 Diane Williams
Several Ceramics & Pottery members "stepped out" with a new stepping stones class held with Debbie Olguin and Mary Ann Bechtel. The class has become addictive, as Debbie and Mary Ann warned! Some members are on to their second and third stepping stones. Members are saying this is one of the most fun classes offered so far. Not just in making the stepping stones, but also with the camaraderie.
Classes for the stepping stones are held in a series. The first class is rolling out a slab of clay 12-1/4" x 12-1/4", drawing a pattern of choice onto the clay, then cutting the pattern out and letting it dry. Next is a quick clean of pieces and then they're kiln fired. After firing, the second class teaches glazing techniques, and the pieces are kiln fired for the second time. The third class teaches how to adhere the pieces to a stepping stone, grouting, and cleaning the piece, and then the steppingstone is complete.
These stepping stones can be stepped on and withstand the heat of our summer months. They add a personal touch to any yard and the patterns are endless.
Want to try your hand at making a stepping stone? Consider taking an orientation class. Contact Mary Ann at 910-393-9009 or drop by the Ceramics & Pottery studio during studio hours (hours are on a bulletin in the front window) to sign up. Orientation classes are $10, and all supplies and tools are provided to make a one-of-a-kind ceramic piece. If you decide to join the club, it is an additional $10 membership fee and then you are ready to make your first stepping stone or any other ceramic piece.