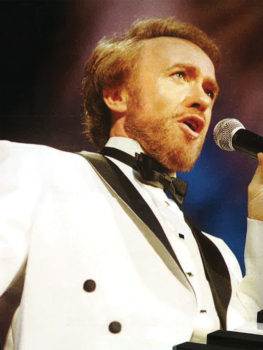 Cahal Dunne, "Ireland's Happy Man," possesses that certain magical quality known in show business as "it." "It" transcends talent. "It" comes from deep within a great entertainer and washes over an audience, captivating them. This native of County Cork has a following of loyal admirers and friends that is unique in the rich history of Pittsburgh entertainment and continues to make new friends with each appearance.
Cahal Dunne is a composer, classically trained concert pianist, story teller, comedian and television personality. His style is rich and deep, reflecting the many strands in his distinguished career. He has performed with Bob Hope, Al Martino, Tony Orlando and has performed for several American Presidents. So with his Irish to Broadway to Country repertoire, a great show is guaranteed.
Mr. Dunne is the nephew of the former Prime Minister of Ireland, Jack Lynch. In 1974 he received his Bachelor of Music degree from the University College of Cork and had several hits in Europe. Cahal started a band in Ireland in 1977, and against all the odds they made it. They won the equivalent of American Idol in 1979 with his own song Happy Man. It was his first number one hit, but they were always fighting the recession, dance halls closing up, etc. Cahal had two choices: go back to teaching or emigrate, so Cahal emigrated. He's glad he did and enjoys playing and singing more than ever all over the U.S.
The concert will be held on Wednesday, February 8, at 7:00 p.m. in the Hermosa Ballroom. The doors open at 6:00 p.m. Tickets are $10 and $15 for non-homeowners. Tickets are on sale now.
For more about Cahal, visit his website: www.cahaldunne.com.