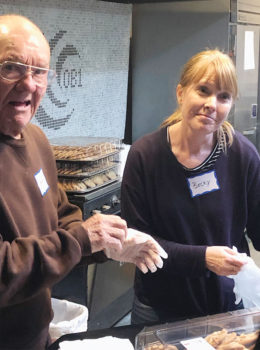 Over the Presidents Day weekend, a team from Rock Springs Church traveled to Ocean Beach, California to love on the less fortunate of Ocean Beach and serve the people of Regeneration Church. Rock Springs Church adopted this young church plant three years ago and this is now the third team we have sent to partner with the ministry of Regeneration Church.
Our team spent Saturday morning doing a prayer walk through the streets of Ocean Beach with a couple leaders from Regeneration Church. Saturday evening, our guys picked up some fresh burgers from In-N-Out and distributed them along with blankets to the street people of Ocean Beach. It was pretty fun asking, "Hey are you hungry, would you like a fresh burger?" No one turned us down. We gave away all 24 burgers and about 15 blankets. On Sunday morning our team went again to the beach front and streets of Ocean Beach and gave away pairs of clean socks, blankets and water bottles to whomever wanted them, while inviting people to a free dinner later that same day. And that evening our team provided a free pulled-pork and coleslaw meal. It was an amazing turnout, as we had the privilege of serving over 140 meals. "I haven't had my stomach full in a long time," said one young man. And many of our guests stayed for the worship service that followed.
What a privilege it is to serve together and help encourage this young church that's all about "taking back Ocean Beach". God is using this church to help get people off the streets, freeing them from addictions and helping put their lives back together. If you want to know more about our ministry with Regeneration Church or more about other ministries of Rock Springs Church, come give us a visit on Sunday mornings as we worship together in the Hermosa Ballroom. We are currently in the midst of a message series called, "Rooted" and are learning what it means to be Rooted in the Faith. And don't forget, Easter Sunday is April 21 this year. We would love to have you worship with us.