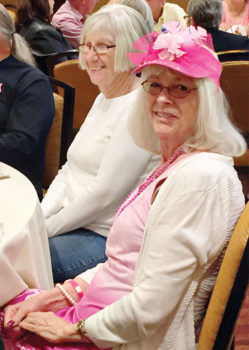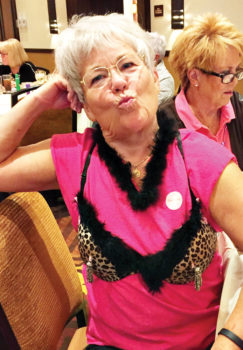 Kristen "Diane" Gaines
When I mention how much fun we had at Booby Bingo in November at Robson Ranch, people look at me like I'm crazy. What is it? Booby Bingo was started three years ago by Robin Tisinger, a breast cancer survivor and the team at Robson Ranch led by Heather Hardesty to raise funds for the Cancer Support Center to help with expenses for support groups, wigs and other programs for breast cancer patients.
What a blast! Ladies and men get together at this Bingo evening to drink a little wine or other beverages, laugh a bunch, play a little Bingo, but most importantly, to honor the women who have battled breast cancer.
In addition to playing Bingo, the Loving Hearts Loving Meals group put on their busy baker hats and make delicious treats for sale at the event. From the proceeds of the sale of Bingo cards, Robson Ranch presented a check to the Cancer Support Center for $984. Add that to the nearly $400 raised by LHLM, we're able to continue our important work for cancer patients. Many women visit our center to get help with wigs, attend our exercise or meditation classes, participate in our monthly support group meeting and dinner or often to just chat and share what's been going on in their lives. Thank you to Robin Tisinger and Robson Ranch for another fun night. Looking forward to our  2018 party.